(Continued from preceding page)
rethink the business model around archiving and likens it to early libraries. "We saw libraries in the United States emerge initially from private sector support from people like Andrew Carnegie," said Cerf. "Eventually it became so important that the public could get the information that they needed [that] we saw the creation of public libraries. No one business model can solve this problem alone."
Cerf added: "I don't want to rely solely on accidental preservation. I would like to have, at my beck and call, technology that will allow me and others to save their own data and access it without worrying about what it was created on."
[ What does tech pioneer Cees Links think about the Internet of Things? Read Wifi Pioneer Cees Links: IoT Is Like a Butler. ]
While there's much work to be done in order to preserve the past, Cerf said he sees great potential in how the Internet can shape the future, particularly as a tool for changing and improving the 21st century classroom.
"Historically, we think of classrooms as oriented around desks and chairs [facing] toward the teacher at the center of the room," Cerf said, "It is a broadcast format. The teacher teaches and students take notes. I think another model might be more interesting. Maybe students are talking to each other instead of listening to a teacher, or they have access to remote instruments, or [are] talking to other classrooms, or maybe they are at home. Classrooms aren't very distinct. The idea that you really don' t have to be in the classroom to learn is very interesting."
Cerf is especially interested in the Massive Open Online Course (MOOC) model. "Not only do you have a multiplier effect of how many people can be in the classroom," Cerf said, "but there are also ways to personalize education, followed by remedial help if you need it."
The model is challenging to implement, according to Cerf, "because you have to guess what students won't understand and plan accordingly." In some ways, the concept of MOOCs is not far removed from Cerf's views about letter-writing. He agreed that in both cases there's the opportunity to make discussions more thoughtful. In fact, he said he's hoping that his letter-writing efforts will spark a redesign of the 21st century classroom.
Internet Inflection Point
Is the Internet he helped create disappointing him? Cerf said he doesn't think the Internet is broken. Rather, we're at an inflection point where we need to think about how we want it to evolve. He stressed that the Internet is only an infrastructure. How you choose to use it makes all the difference, and, he said, "I'd like to think the constructive uses outweigh the non-constructive uses."
Cerf does sound an important warning about the Internet, and Google searches in particular. "When you get an answer [via an online search] you have to decide if you believe the answer," he said. "This is called critical thinking. Where did the information come from, and do we trust it? And so there is more burden on us."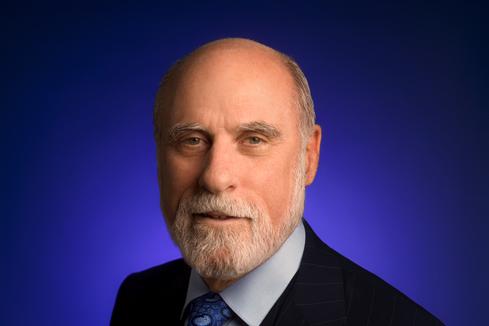 Still, he said his only disappointment is that there are 3 billion people online, "and 4 billion people to go."
If we find a way to get those other 4 billion people on the Internet, maybe they can help us evolve it and address Cerf's other questions.
In the meantime, Cerf's letter sits as a challenge and an invitation to all who are interested in the Internet. How do we make it better? What should it be used for? How can we bring deeper exchanges of information back to the Internet?
These are interesting questions to ponder in an era in which Internet content is judged by how quickly it goes viral. "The fact that 9 million people look at something isn't about exchange," Cerf said, "This letter invites people who want to be involved to express their thoughts. On the Internet, if you get comments, they are usually rather brief, and they lead to a crazy debate on beliefs. I hope this creates a more thoughtful exchange."
If a more thoughtful exchange is something that interests you, check out Cerf's letter and help him evolve the Internet.