IT is learning to share control. Emmet Keeffe, CEO of visualization software maker iRise, says it's working with a company that's trying to break five monolithic apps into 200 apps, so that employees can access just the piece or pieces they need. At the very least, IT and business end users must work together more closely and iteratively in the early stages of an application's design if that design and user experience are going to be great.
"Business people are getting more vocal" in demanding intuitive software, says Keeffe, whose iRise software is used in development to show what an app will look like before people start writing code. "They know it's possible now."
At MetLife, the IT team borrowed from Facebook when it created The Wall, a customer service app that integrates data about a customer in one screen, data that reps used to need as many as 15 screens to access. "We set out to make a prototype that looks like Facebook," says Gary Hoberman, MetLife's CIO of regional application development. "Why Facebook? Because a billion people use it. We don't need to train them." MetLife also developed the interface in about three months. Even when it comes to internal apps, Hoberman says, "our job in IT is to show the magic of technology again."
IT organizations still provide huge value in a consumer-led, user-driven tech world, Gendron insists. Integration remains a huge challenge, as is data security. And IT pros are still the most capable of vetting technology vendors, since a lot of vendors can't deliver what they promise. "You can't pull wool over our eyes," Gendron says. "Before you put the power in the hands of the user, make sure that power is secure and has all the conditions you need to run a solid business upon."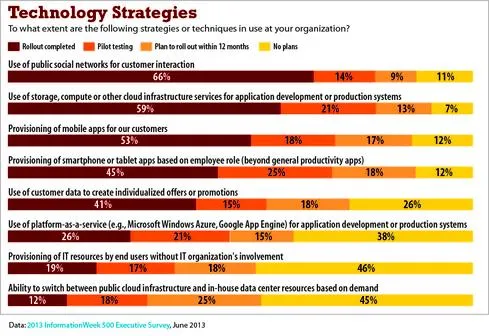 Where we're headed: data-intensive
Employee demand for mobility will keep the pressure on IT organizations to deliver a consumer-like work experience. Most companies implementing BYOD have focused simply on securing each device for email. Now they're starting to think about mobility for all their apps -- not quite a "mobile first" mentality, but at least a "mobile at the same time as desktop" strategy.
At Dish, McClaskey and Carlson are looking at whether it makes sense for field techs to use their own devices to access company apps instead of checking out a company device each day. They're exploring whether to give techs mobile email for direct customer interactions. Meantime, Dish has provided 10-inch tablets to its salespeople for product demos on door-to-door calls and in kiosks at shopping malls and state fairs.
"Where we still see IT behind is in content and collaboration," says John Marshall, CEO of AirWatch, a maker of mobile device and app management software. What he means is that companies have rolled out mobile devices quickly -- for example, to a 500-person pharmaceutical sales staff -- focusing on securing devices for email and sales support. But they haven't worked through content management controls, such as auditing whether salespeople are using the most-current prices or medical research.
We'll see much larger-scale BYOD adoption, Marshall predicts -- the 100,000-employee retailer offering a simple bundle of apps to hourly staffers to coordinate schedules and other tasks. Such apps must be secured, but it's "not going to kill the company if someone gets access to your scheduling app," he says.
Forty-five percent of InformationWeek 500 companies now provision smartphone or tablet apps widely based on employee roles, another 25 percent do that on a limited basis, and 18 percent are piloting it. Only 12 percent say they have no such plans.
A common thread runs through Consumerization 2.0: Give people access to more data. At Avnet, SAP is the source of a lot of data Avnet could start providing to customers -- data around product availability, shipment, and billing, for example. Phillips thinks the mobile development platforms and SAP tools for mobile apps are finally mature enough to make that happen. Likewise, customer expectations for the look and feel for a mobile site have settled, much like they did around Web apps a decade ago, he says.
Using its OrangeScape development platform, Celestica is just giving non-IT business users more capability to build some of the "meatier" enterprise apps. Yesterday's model was IT command and control. Today's model recognizes that tens of thousands of tech-savvy people walk into Celestica's factories every day, so the IT organization needs to build a software development framework that taps their energy. "Get yourself an IT-savvy workforce," Gendron advises, "and then watch them make things happen."