1995 was a good year for me. I met my future wife that year. It was also a pretty good year for Microsoft. It released Windows 95, which was a major leap over Windows 3.1. Despite Microsoft's good year and its more than a decade of dominance to follow, an interesting thing happened. Microsoft introduced a vulnerability into Windows 95 that remained undetected until recently. Every version of Windows has had it since.
That's pretty phenomenal when you think about it. A software bug lasted 19 years without anyone finding it. That makes it old enough to vote. There are people now in college who were born after this bug was introduced.
When this code was written, some of the programmers were probably wearing Joey Buttafuoco pants. When this bug was introduced, people associated Batman with Michael Keaton. Someone could have exploited this vulnerability while watching an episode of X-Files while eating the world's first Stuffed Crust pizza from Pizza Hut and washing it down with the very first blue M&Ms (personally, I like the Peanut Butter ones). I mean, this bug is old.
[Continue the nostalgia: Read 8 Classic Video Games Begging For Tablet Versions.]
So it got me to thinking: What was happening in technology and our lives in 1995?
This is what we considered new technology in 1995:
I never used AOL, but I remember getting its free disks in the mail. Remember the mail? Remember disks?
Bryant Gumbel couldn't even get his head around it at all. Of course, this was not the first or last time a journalist embarrassed himself while speaking or writing about technology. I do it every week.
At this point, I had been on the Internet for years. I think I sent my first email some time in the 80s. I'm sure this is true of many of you as well. What else was going on in technology?
1995 was a great year in gaming. Star Wars: Dark Forces, the first modern first-person shooter, was the first game I played on Windows 95. Mortal Kombat 3 was out in the arcades. (Remember arcades? They were doomed by the home video game consoles coming out from Nintendo and Sony.) Warcraft 2 also debuted in 1995, spawning one of the biggest gaming worlds ever. The entire time you played World of Warcraft in the 00s you did it on a computer with a vulnerability introduced a decade earlier.
Here's another major technological milestone from 1995: the debut of the world's first feature-length movie made entirely by computer, Toy Story, which launched Pixar into the stratosphere and changed animation forever.
Think about it: Every Pixar movie ever made was created on computers running this Windows 95 bug. And it was just patched.
In 1995, you were probably coding to the sweet sounds of R&B and hip hop from groups like TLC and Boys II Men.
We know one person who was definitely listening to hip hop that year. InformationWeek's own Susan Nunziata was news editor at Billboard Magazine. This is her at the 1995 Billboard Music Awards with the artist who happened to have the number one song of 1995.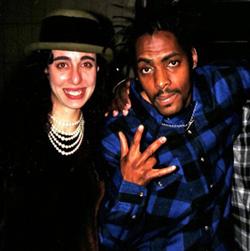 Yes, that is a young Susan Nunziata with Coolio. If you do nothing else with this article, please leave a comment about Susan and Coolio. We cannot let this opportunity pass. Susan Nunziata once lived in a Gangsta's Paradise.
You can't wrap up a discussion of 1995 without mentioning TV, but there is no quintessential TV moment that sums up the mid 90s.
So this gem of reverse engineering that I found will have to do. If this Game of Thrones scene shot as if in 1995 doesn't make you nostalgic, I don't know what will.
So, what were you doing in 1995? If you were still in school, what technology inspired you to become an IT professional? If you were already working, what were some of your projects? What do you miss about the 90s? Comment below. And please tell us what you think about Susan and Coolio.
Get the latest information to migrate your systems, services, and applications to the next level at Enterprise Connect. Cisco, Microsoft, Avaya, and Oracle will lead the keynote lineup, and thought leaders from enterprises and vendors will cover the full range of platforms, services, and applications that will simplify your migration to next-gen communications and collaboration systems. Register for Enterprise Connect with code DIWKWEB to save $100 off the early-bird rate. It happens in Orlando, Fla., March 16 to 19.