(continued from preceding page)
house, then you should be able to take advantage of cloud services. Otherwise you still need to go and get the talent from the global pool of talent to execute the development program -- cloud computing or not."
One of the developments transforming outsourcing is the growing ease with which applications and services can be connected through composable APIs. In this model of modularity, business applications have the potential to be plug-and-play with one another, even if reality is seldom that simple.
Emmanuel Straschnov, cofounder of Bubble, a visual framework for creating applications without coding, in a phone interview described the situation as the "API-ization of everything."
[There are plenty of ways to create apps. Read Building Apps Without Code: 7 Options For Your Enterprise.]
Straschnov said the problem with software outsourcing is that the people who build the software are not the people who end up using it -- so the users don't get what they expect.
"For something as essential software, you need to be in full control," he said.
Bubble, Straschnov said, offers a way to create applications without coding, freeing software engineers to focus on infrastructure. So far, he said, the company's clients have been startups -- like a San Francisco-based company that sell loans to homeowners who want solar panels on their roofs. Startups are more willing to try new things, and they don't already have a lot of technology, he said. But he added that he sees a place for Bubble in enterprises, and notes that the service can be run on-premises.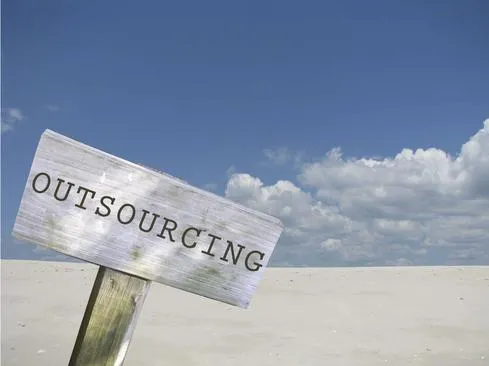 Yet for some large companies, outsourcing remains commonplace and necessary. "From my experience working in the telecom infrastructure side, all major telecom solution providers rely on the help of third-party software providers to do what they have to do to deliver on customer commitments," said Masini. "There is definitely a difference of quality from supplier to supplier. However, the skills and resources that they bring to the table are essential to keep pace with the demand."
The need for custom software won't disappear overnight, if ever. But given sufficient compatibility across third-party services, and the continued commodification of common business services, it's conceivable that much of the customization and configuration done through code today could be done through menu-driven services in the years ahead, without developers.
The growing ability to automate business tasks may be contributing to declining interest in outsourcing. A recent KPMG report said that robotic process automation has the potential to affect 100 million global knowledge workers by 2025. While call center workers are more at risk than software developers, there are plenty of rote software maintenance tasks related to patching and quality checks that can be handled efficiently by automated systems.
"We expect to see automation accelerate and replace a lot of our labor in this specific space," said Brown.
Brown nonetheless contended that the numbers cited for failed IT projects are exaggerated. "There's an ongoing joke that every IT project is over-budget and late," he said. "But when you start looking at outsourcing arrangements as they relate to software, I don't think that's true. The more mature companies, if you ask them, would tell you they've been able to manage [expectations and capabilities] over time and that the number [of failures] would be less."
Masini argued that leadership is essential for a successful project. "It takes perseverance to ensure the quality standards and milestones are adhered to," he said. "If you think it's just about handing something over to a third-party software provider and hoping they execute flawlessly, then you are being unrealistic. You need to treat it as an extension of your team. That means you need to stay on top of them and make sure milestones are met. Simple as that."
**Elite 100 2016: DEADLINE EXTENDED TO JAN. 18, 2016** There's still time to be a part of the prestigious InformationWeek Elite 100! Submit your company's application by Jan. 18, 2016. You'll find instructions and a submission form here: InformationWeek's Elite 100 2016.