The landscape of information technology has been evolving ever since the first rudimentary computers were introduced at the turn of the century. Technological advances continue to occur at a breakneck pace allowing for faster processing and vast amounts of data storage, but it is the introduction of the cloud computing model that has transformed the design and deployment of data centers in the last two decades. In simplest terms, Cloud is the delivery of on-demand applications and computing resources. Cloud solutions are typically delivered over the Internet by a third party, but it is also common to see the model applied within an organization's data center as a private cloud.
The cloud model is a departure from previous data center strategies since the model provides a pool of resources that can be consumed by users as services as opposed to dedicating infrastructure to each individual application. In the case of public cloud, these services can take the shape of end- user applications, back-office platforms, or virtual servers –- all hosted over the Internet with simple billing models that charge the user for just what they use.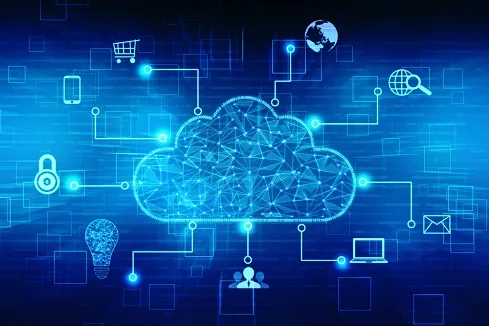 As we move throughout our day, we take for granted our personal interactions with the cloud. The majority of the applications running on our mobile devices leverage the cloud, and there is a general expectation that these services are always available 24 hours a day. The combination of "always-on, never fails" expectations, the ease of scalability, and the change in cost model that the cloud provides has had a direct effect on the strategy that CIOs employ regarding how to leverage their data center and the delivery of IT within their company. CIOs look across their traditional IT landscape and see high cost and loss of efficiency with their multiple data centers, multiple storage solutions, and large deployment of servers and applications. As a result, organizations are increasingly leveraging public cloud in order to augment traditional IT and take advantage of these benefits.
Companies can convert capital expenses originally allocated to their private data centers into operational expenses associated with the cloud, and can begin to shift to more of a self-service model for their end-users, which helps defray IT costs. When cloud was first introduced, many CIOs took a "wait and see" approach as the model matured, but now cloud adoption has drastically increased, with Gartner estimating that 40% of IT budgets are being allocated to cloud and cloud-related services. Cloud's transformative effect on the data center is evident in a commitment to "Cloud-first" policies across many organizations, including our own federal government and large enterprises like General Electric – who announced at Amazon's AWS re:Invent user conference that the company will move 60% of its IT workloads out of the data center and into the public cloud.
What's a fit for the cloud, what isn't?
Industry research indicates a major shift in thinking toward cloud, but traditional data center models and cloud are not mutually exclusive. The data center transformation will continue to evolve, and CIOs are encouraged to think about the cloud not as an "or" strategy but rather an "and" strategy when compared to traditional data center hosting. So, what are some specific examples of how organizations are leveraging cloud as part of their IT strategy today? What drives an organization to choose cloud over building and maintaining the solution themselves? CIOs should first understand what applications are a good fit for the cloud and what applications are not.
Applications that are a good fit for the cloud typically have flexibility built into the application such that there are no custom hard-coding of systems or security features. The application and the data can run in separate workspaces so that the application can take advantage of dynamic resource utilization. Spinning up additional resources, like the addition of web servers for a web app, should be part of a modular design. These features allow the IT organization to run the application in the cloud, as opposed to deploying and maintaining the infrastructure in their own data center. It is also important, however, to recognize that reliance on the Internet goes up when moving an application to the public cloud; so if the Internet goes down for your end-users then productivity stops.
Applications that are not a good fit for the cloud or are best suited for deployment in the organization's data center typically have special requirements that preclude them from moving to the public cloud. These requirements could be regulatory in nature, infrastructure-dependent, or have latency issues. Compliance concerns are commonly found in healthcare and financial services which might limit where data resides and how it is accessed. While special security concerns were common in the early years of public cloud, many cloud providers are providing security solutions that are on par or surpass some private data centers. Improved security technologies within the cloud will accelerate adoption and further the transformation of the data center as the topic becomes less of a concern for CIOs.
Everything 'as a service'
One of the most popular examples of cloud transformation is software as a service (SaaS). IT organizations have been able to leverage a number of end-user productivity applications through a SaaS model instead of building and maintaining the solution themselves. A solution like Microsoft's Office365 provides applications (Word, Excel, etc.) over the Internet, but still leverages authentication and security features configured by the IT organization. In this case, the organization adds and removes users on a monthly basis and pays for the Office365 entitlement as it is being used. The infrastructure that manages, patches, and runs these applications is delivered by the cloud provider (Microsoft), which allows the IT organization to focus costs and effort on other initiatives.
Services delivered by the public cloud can also take on other forms beyond just delivering an application to an end-user. Due to its remote and consumption-based nature, cloud is transforming how CIOs view backup and replication solutions. Instead of deploying a secondary data center for offsite recovery, the IT organization is able to maintain production applications and data within their own primary data center while taking advantage of the remote cloud for offsite backup, replication, and failover purposes. As a result, the IT organization does not have to maintain a secondary facility just for backup and recovery and can take advantage of the consumption-based cost model by paying for only what it uses.
In another common example, IT organizations may choose to deploy web or database services via the public cloud by consuming the platform on a monthly basis and applying their configuration to that platform –- also known as platform as a dervice (PaaS). The applications and the end-users that use them do not know that the platform is hosted in the cloud, but the solution provides scalability and the opportunity to operationalize some of the costs for the IT organization. This is a departure from traditional data center hosting models where the platform would have to be deployed and maintained by the IT organization, not just the application itself.
Finally, it is quite common for IT organizations to leverage the cloud for a variety of server workloads. These workloads might be dynamic in nature or might be part of a test/development environment, but in each case, computing resources (servers) are needed. Instead of deploying the servers as dedicated machines in the data center, the cloud provides new options for companies to "self-serve" virtual servers that are elastic and scalable. This type of computing resource utilization is known as infrastructure as a service (IaaS) and is the fastest growing segment of cloud, according to Gartner. IaaS has completely changed how IT organizations think about deploying new servers in the data center. As a result, the IaaS market is expected to grow by $6 billion in 2016 to a total of $22.43 billion with continued adoption into future years.
Whether it is delivering applications to end-users or deploying a dynamic web application, the cloud provides IT organizations with the scalability, ease of management, and the operational cost model to deliver quality services to customers through an entirely different model than what was seen in traditional data center deployments. Cloud has reached a level of maturity that is now transforming the data centers of IT organizations, from large enterprises to small businesses, and is allowing companies to focus on their core business and consume IT as opposed to being in the IT delivery business.
This article originally appeared in the PCM Tech Journal.
Patrick Lohmeyer is Associate Vice President, Offering Development at PCM. He leads a team dedicated to defining the PCM service offerings that are provided to both current customers and any prospective consumer of technology services. He has participated in core business initiatives ranging from new business opportunities to vendor development and audit activities. Lohmeyer is responsible for the requirements and processes through which PCM Services Development activities flow and provides a lead role in defining the requirements for the PCM Cloud offerings (SaaS and IaaS).
Lohmeyer previously managed and led the consulting and implementation services for 8 years including implementation engineering on all customer project work, solutions architecture, dedicated solution design and sales support activities. He holds multiple industry certifications spanning multiple vendors/manufacturers, including server, networking, and VoIP technologies. He graduated from the University of Pennsylvania.