gateways from vendors such as AudioCodes, Cisco, Oracle (Acme Packet), and Sonus route traffic inside and outside the enterprise, based on directories and other defined rules. These gateways include the session border controllers needed to secure the signaling and media streams across both telco trunks and Ethernet backbone services, and they can manage traffic between a mix of conventional PBXs or IP-PBXs and UC systems.
Another key is the proliferation of computers, tablets, and smartphones. When equipped with standards-based or proprietary communications clients, they're all IP-based replacements for the desk telephone. Even where a user prefers to use a telephone handset, the telephone can be a simpler and cheaper model, because the more advanced UC applications will be accessible on the user's computing device.
A third key is the modular, virtualized software design of most UC systems and services, which lets companies deploy them easily in the cloud or on the premises. Since most vendors sell their software on a per-user license or subscription basis, there's usually no software cost difference and minimal hardware cost difference between the modes of deployment for the new communications topologies.
You can read more about the new network topologies in our white paper, "Transformation of Enterprise Communications Topologies." Shown below are the before (No. 1) and after (No. 6) illustrations from that paper, indicating the topology evolution from conventional TDM trunks to Ethernet-based IP backbone services.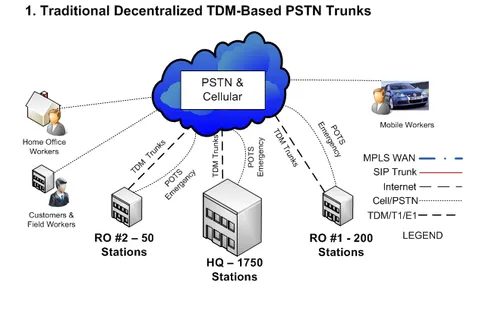 For a typical 2,000-line enterprise configuration, the "before" topology (Figure 1) has a communications bandwidth and trunk cost of $324,000 per year. The "after" topology (Figure 6) has a communication bandwidth and trunk cost of $92,160 per year. That's a 70%-plus cost reduction, not even factoring in all the other UC-based benefits. It makes a compelling case for a topology change.
Every enterprise is different, but any major network topology change along these lines will make your communications more robust, better suited to user and business requirements, more flexible for the future, and less costly.
Next in the series: How to organize your IT team to get the greatest benefit from UC systems.
In its ninth year, Interop New York (Sept. 29 to Oct. 3) is the premier event for the Northeast IT market. Strongly represented vertical industries include financial services, government, and education. Join more than 5,000 attendees to learn about IT leadership, cloud, collaboration, infrastructure, mobility, risk management and security, and SDN, as well as explore 125 exhibitors' offerings. Register with Discount Code MPIWK to save $200 off Total Access & Conference Passes.