Unified communications have been a "thing" for more than a decade now, but how many companies have really deployed unified communications for their employees? Is a good instant messenger enough -- or is there more to UC than meets the keyboard?
That was the essential question addressed by the first general conference session at Enterprise Connect in Orlando, Fla. The conference, owned by InformationWeek's parent company, UBM, opened on Monday, March 16. The opening session, Reality Check on Progress Toward Unified Communications, brought together executives from a number of different companies who shared the stage to talk about unified communications and why it's taking so long for them to truly take hold in the corporate world.
The participant in the morning's sessions were:
Fred Knight -- GM and Co-Chair / Publisher, Enterprise Connect / No Jitter
Jim Burton -- CXO, CT Link/UC Strategies
Rowan Trollope -- Senior Vice President and General Manager, Collaboration Technology Group, Cisco
Zig Serafin -- Corporate Vice President, Skype Business Services, Microsoft
Adam Swidler -- Technology Evangelist - Google for Work, Google
Gary Gordon -- Group Leader, Enterprise Solutions Group, NEC Corporation of America
Jeff Bridge -- Vice President of Solution Engineering & Development, Unify
Gary E. Barnett -- Senior Vice President & General Manager, Collaboration, Avaya
Josh Haslett -- Vice President of System Engineering, Mitel
While there were significant differences in their takes on individual pieces of the market, there was broad agreement on the current state of unified communications adoption and what the vendors in the market need to do for next steps.
The first big question was where the market is right now.
The two very consistent answers from the panelists were "in motion" and "moving to mobile."
Google's Adam Swidler was succinct: "What we're seeing is the environment where the ability to communicate instantly with anyone is as easy as one click. Doing that in a way that takes advantage of the devices in our pockets and the global services that sit behind them is critical."
One of the reasons, people agreed, for the continuing strength in unified communications is that the unified communications apps themselves are disappearing into the fabric of the device operating systems and enterprise applications. "The user experience is becoming more natural for people. We have to think about what people are doing in their daily lives and bring UC into that without creating another learning hurdle," said Microsoft's Zig Serafin. "Making the app transparent is key," agreed Swidler.
Part of that "transparency" is making sure that the user experience within unified communications is the same across all the platforms an employee might use. That single user experience, then, becomes critical from the viewpoint of both the vendor trying to sell systems and the IT department trying to convince employees to use them. As Jeff Bridge of Unify said, "We have to figure out how to work together on a user interface so the customer is happy no matter which systems they choose."
[Read about the best options for BYOD.]
While participants agreed on the importance of a transparent user interface and good user experience, there was stark disagreement on precisely how many applications are optimal for communicating in an enterprise environment. A number of speakers, including Bridge, Gordon, and Barnett, argued in favor of a single unified communications application in which every collaboration and communication task can be completed. Swidler and Cisco's Rowan Trollope were at the other end of the spectrum, arguing that users are accustomed to different apps for different communication needs in the personal lives -- a use model that should carry into the business world.
"I have 179 apps on my phone and probably 15 of them are messaging apps with one or two people I communicate with through the app. Users are really smart — they don't need one app in order to make things work," Trollope said.
Whether a single application or a swarm of apps is the right answer, all the participants agreed that collaboration has become the focus of most of their enterprise customers. That focus has a number of implications for both the user community and IT. E-mail, for example, is seen by most of the panel members as an archaic communication form that will be less and less important because of the difficulty in tying an email message stream into a collaboration infrastructure.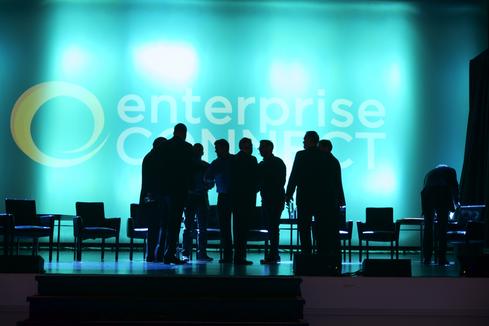 The need to tie things together into that overall collaboration infrastructure is the force that will drive IT in decisions that range from network infrastructure to cloud adoption, according to the panel's consensus. What it won't drive is a push toward any single device or operating system.
"Our world today is dominated by mobile devices but it's not the device by itself. There are lots of screens and devices in the house and the office. They all work together," said Serafin. Gary Barnett of Avaya summed up the panel's discussion when he said, "If the apps aren't part of the overall ecosystems they won't be adopted. We'll see many, many different endpoint solutions. On the consumer side we can just download them: On the enterprise side they all have to fit within the large picture."
That large picture of pervasive business collaboration remains a work in progress. The panel's conclusion, accompanied by many nodding heads in the audience, is that the work has truly begun and progress toward collaborative unified communication is, at last, being made in significant ways.
Attend Interop Las Vegas, the leading independent technology conference and expo series designed to inspire, inform, and connect the world's IT community. In 2015, look for all new programs, networking opportunities, and classes that will help you set your organization's IT action plan. It happens April 27 to May 1. Register with Discount Code MPOIWK for $200 off Total Access & Conference Passes.