Collaboration Breakdown?
Only 34% of respondents to our survey see an increase in the use of collaboration tools at their agencies, compared with 48% in 2013. Twenty-five percent are adopting an interagency data-sharing model this year, compared with 31% last year. Twenty-one percent said their agencies already share data with other agencies, and 28% have no new plans to share data in the next year.
Collaboration appears to be mainly within agencies, Riolo says, rather than cross-government. "Take NIH, for example. You may have collaboration between the National Cancer Institute and the [National Heart, Lung, and Blood Institute] within, but you're not going to have collaboration with Commerce or State or anything like that."
We also asked in our survey how comfortable government IT pros are with using open source software. In this year's survey 31% of respondents said they're "very comfortable" using open source, down slightly from 34% last year, and 17% are comfortable with it but don't use it. A hefty 40% said they're not comfortable with open source software.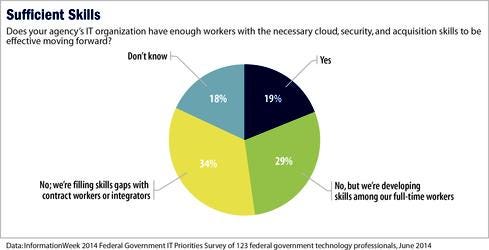 Reddix notes that Whitehouse.gov began running on Drupal, an open source content management system, in 2009. That move was considered a big win for the open source model, he says, but he warned against continued cultural resistance.
"They actually released the code and it saved a lot of money," Reddix says of the White House move. "Using open source, you don't have to reinvent the wheel at every agency or subdepartment. But the culture says, 'I've got my tried and true kind of technology and it's the only thing I know.' "
Innovation Crawl
In general, government IT pros are less bullish than they were last year about tech innovation at their agencies. Only 7% of survey respondents this year cited a "significant" level of IT innovation at their agencies, compared with 14% last year, while 58% cited "moderate" improvement, compared with 57% last year. Nearly a third reported very little innovation at their agencies (3% reported no innovation).
Asked about their agencies' IT efficiency, 6% of survey respondents reported much improvement, 34% somewhat better, 40% the same as before, and 17% less efficient.
Thirty-seven percent of respondents said their agencies have a strategic plan and follow it closely (down from 45% in the 2013 survey), while 38% said they have a plan but deviate from it regularly (up from 30% last year). Reddix attributes the inertia in IT reflected in this year's survey to "innate culture" in government. "If you're looking at a root cause, it would probably be the umbrella culture of the Washington environment itself," he says. "Culture affects everything."
Another survey participant pointed a finger at Washington-centered program control. "Everything must be done by central office," the participant says. "No one outside of D.C. matters."
However, one survey-taker begged to differ, indicating that tech innovation has a place in government: "My agency has made much progress in getting ahead of the IT curve in the past five years."
Government agencies continue to struggle to find and keep people with the right IT skills. Nineteen percent of survey respondents said their IT organizations have enough people with the necessary cloud, security, and acquisition skills, while 29% said they lacked sufficient workers but are developing those skills among full-time employees. Another 34% said they lacked skilled workers and are filling gaps with contractors.
Says one survey respondent: "There are still too many dinosaurs in positions for which they don't have qualifications or knowledge pertinent to the decisions they make daily."
Get the August issue of InformationWeek Government.