are far more likely than women to pursue open jobs. "I've been a woman a long time, and I can tell you, there is this difference between men and women," she quipped. "One of them is the self-evaluation. You can have a highly qualified woman who doesn't think she's good enough, and in contrast, you can have a less-qualified man who thinks he's perfect."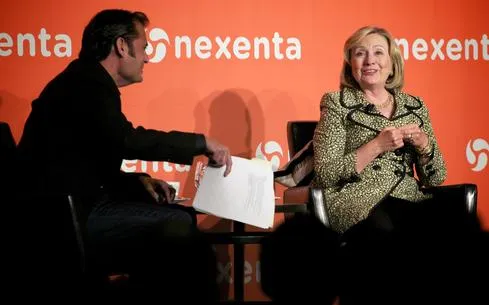 She noted that some tech companies have begun to more seriously examine how they recruit and retain female employees, and she praised Google in particular.
7. Clinton supports H1-B visas but wants to fill jobs with people already here.
Clinton said H1-B visas are a thorny issue because even though they give employers more options to find the right employee, they also support the perception that companies prefer cheap foreign labor over expensive American workers.
"We are a nation of immigrants," she said, adding that foreign-born workers have played an "unparalleled" role in the development of Silicon Valley and the US tech industry. In one of several jabs at the Republican-controlled House of Representatives, the presumed presidential candidate said Congress's failure to pass comprehensive immigration reform has hurt the nation.
But she countered that given all the jobs lost during the Great Recession, "there has to be an extra effort to fill jobs with people already here."
8. Clinton wants large enterprises, and particularly tech companies, to do more to address social issues.
Beyond her appeal for more public-private tech collaborations, Clinton called on businesses to use more of their resources to address the country's social and economic inequality.
"Building a better America is a team sport, and we can't afford to leave anyone on the sidelines," she said, adding that the US needs high tech "in the game."
"People are actually working harder than ever, but we've lost the historic link between productivity gains and wage gains that people can actually see in their paychecks and feel in their wallets," she continued, noting that even in the affluent Bay Area, there are "communities where opportunity and upward mobility feel like distant memories."
"We have a lot of work to do together," Clinton told the crowd of tech execs and analysts. "We need all of you, your energy and your efforts, your innovation, your building, your creating, to help us achieve a better world."
9. Clinton hasn't said if she'll run for president, but she spoke like a candidate.
Clinton has yet to confirm whether she'll run for President, though she's widely considered the front-running Democratic candidate. At last week's conference, she didn't discuss her intentions for the Oval Office -- but in addition to discussing tech, she also spoke about all the policy issues one would expect an aspiring candidate to bring up (especially given that several people in the audience are wealthy enough to be significant campaign donors).
Touching foreign policy, Clinton expressed uncertainty over Iran's proposed nuclear energy program, stating the Ayatollah hadn't convinced critics who fear it's a cover for weapons development. She also praised China's economic growth and India's democratic elections but said it's unclear if the countries can maintain their momentum in the future. Moving to other hot-button issues, she affirmed "responsible" Second Amendment rights but lambasted "a concerted effort by the gun lobby to basically end all restrictions." She called for sensible steps that impose gun ownership and possession restrictions on the mentally ill, children, and criminals.
Despite acknowledging healthcare.gov's bugs, Clinton praised the improved version of the site as well as the Affordable Care Act. She praised several provisions of the law, such as the elimination of restrictions based on pre-existing conditions, and said it gives the nation a "fighting chance of noting that more than 20 percent of GDP goes to healthcare."
One of her more topical remarks involved the police shooting of Michael Brown in Ferguson, Missouri. Clinton, somewhat controversially, had not previously commented on the incident, which prompted large, sometimes violent protests and substantial debate over racial profiling and police militarization. She said she grieved for the family and community. She also pointed out that peaceful protestors and the majority of police are inspiring, but she blasted clashes among activists, looters, and police in Ferguson. "Nobody wants to see our streets look like a war zone. Not in America. We are better than that."
Find out how NASA's Jet Propulsion Laboratory addressed governance, risk, and compliance for its critical public cloud services. Get the new Cloud Governance At NASA issue of InformationWeek Government Tech Digest today (free registration required).