When Katherine Archuleta arrived in November to lead the federal government's Office of Personnel Management, her top priorities included modernizing the agency's IT systems and bringing in a new CTO and CIO.
Before Archuleta even moved into the director's office, the OPM named Amen Ra Mashariki, a computer scientist and former White House fellow, as its new CTO. In December, Archuleta brought in Donna Seymour, a former deputy chief human capital officer at the Pentagon with extensive IT experience, as the new CIO.
Now comes the IT modernization plan, released this week. It promises to improve programs that address the beginning, middle, and end of federal employees' careers, from workforce planning and hiring to maintaining records and finalizing retirement benefits.
[Experts say federal IT budgets make sense, but flat funding can't go on forever. Read Proposed Federal IT Cuts Sensible 'For Now'.]
One of Archuleta's goals is to simplify USAJOBS.gov, which aggregates job openings across the federal government. The OPM wants to make the application process easier for job seekers, with new features such as a resume-mining tool that lets applicants upload their information without needing to retype all the details. OPM officials also plan to include new reporting and analytics tools to make it easier for agency recruiters to monitor response activity.
But the strategic plan reveals that the OPM won't start developing the next full iteration of USAJOBs until next fiscal year, which will start Oct. 1.
The OPM took over operation of the government-wide job site from Monster.com in 2011 and released an internally developed platform that immediately ran into trouble. Users complained of erroneous search results and difficulty in finding their stored information, resulting in congressional hearings and a "tech surge" to make repairs, not unlike the fury surrounding last October's failed launch of HealthCare.gov. Under the direction then of John Berry, the OPM fixed the most glaring problems, but it's still difficult getting the website to work smoothly with myriad HR systems at different federal agencies.
The plan says the OPM will adopt agile development techniques to deliver new iterations every 6-9 weeks beginning in fiscal 2015. USAJOBS developers will start by focusing on the "universal trailer hitch" software that links the site to the HR systems of agencies, and revising or establishing new technical standards for the site.
Another priority is to improve data availability and accuracy in order to speed up retirement processing. OPM must verify the work records of federal employees before finalizing their retirement packages. The department has struggled for years to reduce the backlog of cases, partly because employment records haven't been digitized uniformly across federal agencies.
Under the new plan, the OPM will evaluate and acquire business process management and case management tools and begin implementing them in August 2015. The BPM tools will improve workflows in large offices; the case management tools will help agents working on retirement cases or conducting background checks track and report on cases.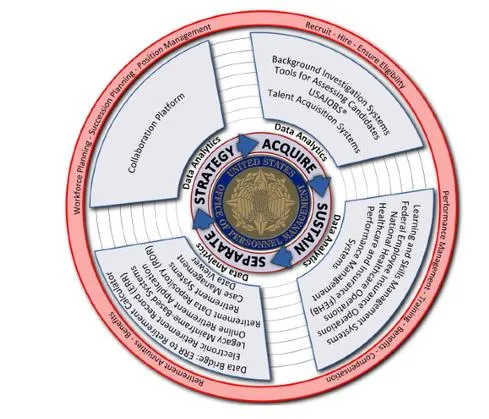 According to OPM figures, about 114,700 federal employees filed retirement applications last year. It takes about 90 days on average for the agency to process an application. That's down from 156 days in February 2012. Now it is focusing on eliminating its backlog of retirement applications, which spiked to 21,300 in January, though that's 40% fewer than the previous January.
Case management tools also play an important role at the OPM's Federal Investigations Services office, which conducts 95% of the government's background checks.
The OPM also manages hundreds of other IT systems, including ones that calculate retirement benefits, handle retirement payments, and manage electronic personnel folders. In addition, Congress made it responsible for warehousing health claims data for federal employees under the Affordable Care Act.
How the agency will fund its IT modernization projects, including plans to evolve toward an enterprise-wide shared infrastructure, remains uncertain. It allocated $95 million for IT investments in FY 2015, according to the president's budget request to Congress. That's $1 million less than current year spending but $10 million more than the agency invested in FY 2013.
But according to Archuleta's IT strategy plan, the OPM anticipates cost increases at magnitudes of 10-15% annually just to maintain the aging hardware and software systems that run its retirement systems. The costs are difficult to avoid as personnel with the necessary coding expertise retire and cannot be easily replaced. Additional funding will be needed for this effort, the report warns.
Elena Malykhina contributed to this report.
These five higher education CIOs are driving critical changes in an industry ripe for digital disruption. Also in the Chiefs Of The Year issue of InformationWeek: Stop bragging about your Agile processes and make them better (free registration required).