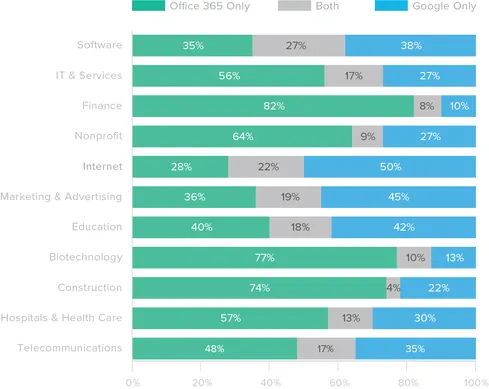 Google Apps Vs. Office 365: Which Suite Reigns Supreme?
(Click image for larger view and slideshow.)
In addition to expansion and acquisitions, Alphabet's Google Fiber, which provides low-cost, high-speed internet access through physical infrastructure, is looking for permission to test a wireless version of the service.
In an Aug. 5 filing with the US Federal Communications Commission (FCC), Google Fiber representatives write that they want to test the service in 24 locations in the US, including some areas, such as San Francisco, where it already operates, as well as number of new urban markets, including Reston, Va., and Boulder, Colo.
The company also wants to operate between the 3.4 GHz and 3.8 GHz band, which has been opened for innovative small-cell spectrum sharing by Citizens Broadband Radio Service (CBRS) devices.
"We are working to test the viability of a wireless network that relies on newly available spectrum," an Alphabet spokesperson told Business Insider, which first reported the filing. "The project is in early stages today, but we hope this technology can one day help deliver more abundant Internet access to consumers."
In establishing the CBRS, the FCC opened a door for wireless innovation and bandwidth abundance. Rather than allocating the 3.5 GHz band to a single use, the FCC decided to allow shared use of the spectrum.
Users of the spectrum might, for instance, deploy small cell networks that can carry heavy loads of data in high-traffic areas -- such as crowded stadiums -- or offer fixed wireless broadband services in rural areas.
The additional spectrum that is now available in the 3.5 GHz band will also help relieve WiFi congestion, with the goal of improving the experience of consumers accessing the internet over wireless broadband.
In June, Alphabet chairman Eric Schmidt told investors at the company's annual shareholder meeting how a wireless internet service would be substantially cheaper and less complex than laying cables for high-speed broadband, according to a Wall Street Journal report.
Google Fiber has made slow but steady progress in its quest to expand the network, but the physical laying of pipes in urban areas has proved complicated and time-consuming.
[Find out how US internet speeds have improved, but still lag behind other parts of the world.]
In an effort to speed up the rollout of its high-speed internet service, Fiber entered into an agreement in June to acquire Webpass, a San Francisco-based internet service provider founded in 2003.
Webpass boasts tens of thousands of customers across five major markets in the US, and plans to continue to grow its service in San Francisco, Oakland, Emeryville, Berkeley, San Diego, Miami, Miami Beach, Coral Gables, Chicago, and Boston.
Other companies are making major investments in the advancement of wireless broadband internet, including social media giant Facebook, which is developing laser-powered internet connectivity technology that detects optical communication signals traveling through the air.
In addition to underground and over-the-air solutions, both Google and Facebook are deploying airborne physical solutions to bring WiFi to a larger audience. In July, Facebook completed the first successful flight of Aquila, the company's solar-powered plane designed to beam the internet to remote parts of the world.
Meanwhile, Alphabet is expanding its ambitions for WiFi in the sky with Project SkyBender, which aims to deliver 5G wireless internet from solar-powered drones, according to a January report in The Guardian.