In a 2011 op-ed in The Wall Street Journal, venture capitalist Marc Andreessen summed up the salient truth in the business world today: "Software is eating the world."
But software is too vague a term. We've had software -- machine-readable instructions -- since the first electronic computers were developed around the World War II. Software wasn't as hungry then: The change it created came more slowly.
If you want to argue for a more expansive definition of software that includes mechanical instructions, or even recipes as repeatable processes, software has been around for millennia. Its appetite for destruction, as expressed in the mechanical innovations of the industrial revolution, became apparent only after hundreds of years.
Given that software affects businesses, looking at corporate lifespans over time offers some sense of software's impact. In 1958, companies listed on the S&P 500 Index stayed there 61 years, according to Yale University professor Richard Foster and consulting firm Innosight. Today, they're lucky to remain listed for 18 years. There are other factors at play of course, but it's not purely coincidence that the software-driven Internet has risen as corporate lifespans have diminished.
What makes software distinct today are APIs (application programming interfaces, which define how software programs can communicate with other systems), the contexts in which they exist (cloud computing, wireless networks, ubiquitous mobile devices), and the popularity of open source software.
Given these circumstances, APIs enable innovation (and the destruction obsolete business models) by facilitating the rapid development and deployment of IT services. But had Andreessen said APIs are eating the world, his message might have been missed.
On Wednesday, at the request of Twilio, a communications infrastructure provider, I spent some time at the company's SIGNAL conference discussing the value of composable (modular) APIs with four accomplished panelists: Justin Kan, a partner at Y Combinator and founder of Justin.tv and Twitch; Jessica McKellar, engineering manager at Dropbox and founder of Zulip; Harper Reed, CEO of Modest and former CTO at the Obama campaign headquarters in Chicago; and Eric Ries, entrepreneur and author of The Lean Startup.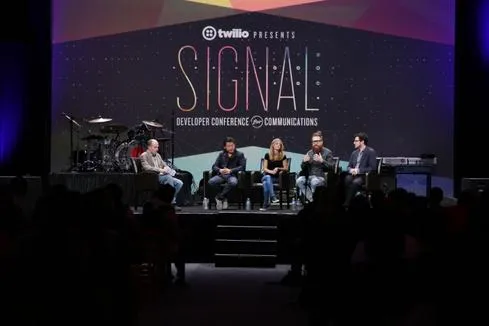 Prior to going onstage, we reviewed possible topics for discussion and found, perhaps unsurprisingly, that we all agreed APIs offer great benefits to businesses. It's hard to argue against the ability to send an SMS message from an app in a few lines of code when the alternative would be lengthy, expensive negotiations with a telecom carrier. APIs make it possible for a few people with a great idea to offer a credible service worldwide with minimal effort and investment.
Given that unanimity makes for dull discussion, we focused on adjacent areas, like the status of developers in Silicon Valley and elsewhere, the need for diversity among developers, and the extent to which enterprises and government organization are taking advantage of the APIs driving rapid change in Silicon Valley.
APIs may be germane to the developer community, but everyone in the business world should also be aware of them and what can be done with them. APIs are shortcuts to business objectives. Uber's success in the ridesharing market owes something to the company's effective use of SMS notifications sent using Twilio's SMS API. APIs are also a potential source of value for companies: Exposing data through an API may open new business opportunities.
APIs are eating the world. Make sure you're aware of where they're dining and whether they want your company.
[Did you miss any of the InformationWeek Conference in Las Vegas last month? Don't worry: We have you covered. Check out what our speakers had to say and see tweets from the show. Let's keep the conversation going.]