After years of exile, Firefox has been allowed into Apple's App Store. Better late than never is the sentiment that comes to mind, but Firefox for iOS isn't better than its desktop counterpart.
Firefox had been denied entry to the App Store because Mozilla remained committed to using its Gecko rendering engine, and Apple requires that iOS apps use the WebKit rendering engine. But Mozilla could not sustain its commitment in the face of Apple's unyielding market power. A shift toward mobile devices renders Firefox's desktop legacy less meaningful with each passing year. So, Firefox for iOS runs atop WebKit.
For most users of mobile browsers, this is inconsequential. Network conditions are so variable that the most noticeable mobile browser differences have to do with variations in interface and user experience rather than performance. But for Mozilla, the underlying technology matters, or it did.
In 2013, then-CTO Brendan Eich explained why Mozilla had not followed Opera in adopting Webkit. "If we were a more conventional business, without enough desktop browser-market share, we would probably have to do what Opera has done," he wrote in a blog post. "But we're not just a business, and our desktop share seems to be holding or possibly rising -- due in part to the short-term wins we have been able to build on Gecko."
Gecko, as Eich saw it, offered Mozilla market advantages. It offered a competitive edge.
Two years later, it's a different story. Mozilla -- the organization that brought competition back to the desktop browser market, toppled the reign of Internet Explorer, and pushed Web technology forward for the benefit of everyone -- finds itself playing by the rules instead of challenging them.
For example, one of the most popular features in the desktop version of Firefox is its support for ad blocking extensions. Apple has endorsed ad blocking in mobile Safari through its support for Content Blocking extensions in iOS 9. Yet Firefox for iOS, as a third-party app, cannot implement ad blocking under Apple's rules.
"Apple Developer Guidelines do not allow us to incorporate their Content Blocking API into Private Browsing on Firefox for iOS," said Nick Nguyen, vice president of Firefox, in an email. "We would love to see this API open up in the future."
If Mozilla had to secure permission from Microsoft to innovate on the desktop, it would have been an inconsequential organization. Accepting Apple's rules limits the potential of Firefox for iOS. If ad blocking in a mobile browser matters -- and for many, it's the single most important feature of any browser -- there's no reason to look beyond mobile Safari.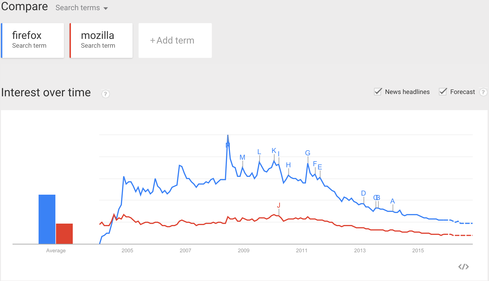 Firefox for iOS is most valuable for users with Firefox Accounts who want to sync their bookmarks, their open tabs, and their browsing histories from Firefox on the desktop to an iOS device. The app can also remember passwords across devices.
Some iOS users may prefer Firefox for its Visual Tabs, which arranges open tabs in a grid to make switching between them easier. It's a bit more usable than Chrome's scrollable stack of tabs, but it's hardly the sort of essential feature that would make one choose Firefox over Safari or Chrome.
Mozilla's mobile iOS browser supports Private Browsing mode, to ensure that it does not remember browsing history or store cookies from visited websites. But competing mobile browsers offer this too.
Firefox for iOS makes Yahoo its default search provider. That shows how much Mozilla's relationship with Google has deteriorated. But it's not obvious whether users will appreciate this choice given Google's persistent popularity.
[ Read Firefox 42 Blocks Tracking Ads, Enhances Private Browsing. ]
In short, Firefox for iOS is nice for those who prefer Firefox, but it's insufficiently distinct to be indispensable. This is a problem that goes beyond Apple's ecosystem. The ability to customize Web content through browser extensions is what makes browsers differ from cable television. Users control how their desktop browsers display content. That control is diminished on the mobile Internet.
The situation is somewhat better on Android than iOS, but even on Android, Chrome doesn't support extensions. The mobile world affords its occupants fewer rights than the Internet accessed via desktop computers. The Internet community needs an organization to fight for those rights. Mozilla could play that role, as it has before.
Mozilla may not be in a position to challenge Apple's rules or to question the status quo, but if that's the case, what's it's reason for being? Mozilla can still influence Web standards and open technology, but its meekness in the mobile world leaves technology users with choices that all look very similar.
**New deadline of Dec. 18, 2015** Be a part of the prestigious InformationWeek Elite 100! Time is running out to submit your company's application by Dec. 18, 2015. Go to our 2016 registration page: InformationWeek's Elite 100 list for 2016.