Google has started to change the Google Play Store in ways that will make it easier for tablet owners to find applications made specifically for their hardware. At the same time, it's nudging developers to better target tablets with their applications.
Android tablet owners should begin to see the changes in the Google Play Store in the coming days. There's a new "Designed for Tablets" section that appears at the top of the screen. This section highlights apps and games that look good on tablets. Users will still be able to see all apps, and not just those made for tablets.
The kicker is what Google is doing with non-tablet apps. Developers whose apps and games fail to meet the "Designed for Tablets" criteria will see their apps marked as "Designed for Phones" instead. This benefits users, as it lets them know before downloading that the app may not offer the best experience on their tablet. It also sort of shames developers into making sure their apps are properly customized for tablets.
[Apple's doing it. See Apple Launches 'Apple Store For iPad' App.]

Google is giving developers more tools to optimize their apps for tablets. The Android developer console now offers tablet optimization tips and a checklist that highlights issues that might cause problems on tablets. Once developers address the issues in the developer console and upload a new binary, their app will be designated as "Designed for Tablets" and "Designed for Phones" appropriately.
The move is clearly a response to the strength of Apple's iTunes App Store. Apple's app store has differentiated between smartphones and tablet apps since the first iPad went on sale in 2010. Hundreds of thousands of applications in the iTunes App Store have been optimized for the iPad, and Apple likes to make a point of needling Google with this statistic. When Apple unveiled the iPad Air and iPad Mini with Retina Display last month, it was sure to chide Google about the poor experience many Android apps provide to Android tablet users.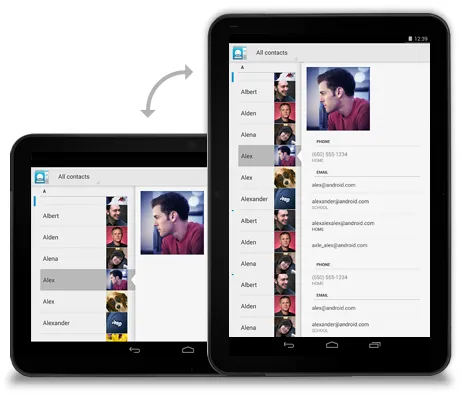 Google says it's not just about design and customization. It believes apps that look better and function properly on tablets will let developers get more engagement from users, which can lead to better monetization opportunities. "Developers who invest the time to meet the criteria are seeing great results," said Google. "Take 'Remember The Milk,' which saw an 83% increase in tablet downloads from being in this section."
Ergo, make your Android apps perform better on tablets and you'll make more money. It's a pretty simple message that will surely entice some developers to make more of an effort with respect to tablets.
Consumerization 1.0 was "we don't need IT." Today we need IT to bridge the gap between consumer and business tech. Also in the Consumerization 2.0 issue of InformationWeek: Stop worrying about the role of the CIO. (Free registration required.)