Several hundred programmers in San Francisco awoke early on Saturday to participate in MasterCard's Masters of Code hackathon, one in a series of 13 regional events being held worldwide that will lead to a final contest in December.
As if to illustrate the degree to which digital media has pushed traditional media aside, the event was held at co-working and event space Impact Hub SF in the Hearst Corporation's Chronicle building, where the diminished San Francisco Chronicle now shares occupancy with other tech tenants like Yahoo.
The event opened with a welcome from Jean-Louis Gassée, a general partner at venture firm Allegis Capital, a veteran of Apple, Be, and HP, and a well-regarded writer for Monday Note.
"I've been a geek all my life," Gassée began, as if his career weren't enough to establish his qualifications to address the assembled coders.
To explain how attendees arrived at this particular moment, Gassée pointed to Apple's iTunes service. When it began, he said, iTunes was a money-losing operation. Apple had to pay credit card fees and royalties, and no one believed Internet users would pay for music. Yet by 2006 Apple's iPod revenue was larger than its revenue from the Mac. That was the year before the iPhone debuted.
[ Hackathons aren't only for developers. Read 7 Hot Hackathons Worth Watching. ]
"Then someone figured out that the whole iTunes infrastructure, the payment system, the storage, the distribution of files, was ready for the iPhone," said Gassée. "It was a miracle because between a music file and an application, there was no difference. It was a series of zeros and ones.
"For Apple, it was a sort of magical revelation, an epiphany that in 2003 they invented something that would become the App Store, which changed the whole landscape. Today, smartphones would not exist without app stores."
If the participants in the MasterCard hackathon proved successful, their apps might find a place in an app store, and perhaps turn into sustainable businesses. The coders were allowed 24 hours to build a mobile app that benefits their community using MasterCard's Simplify Commerce API and social networking. Twitter provided its Digits API to make authentication easier.
"I want to salute what you do," said Gassée. "You can make a big difference. We are still in a world where one individual can write an application that will make a difference."
The winning app was "Dave," short for "donate and save." The app allows a user who has created an account profile with associated credit card data to take a photo of a retail MasterCard purchase receipt. It will automatically compare the captured price with online prices for the purchased item. If a lower price is found, Dave submits the data to the MasterCard's price protection service. The credit card company will then reimburse 80% of the price difference to the customer, while keeping 20%. The customer has the option to donate from 1% to 5% of the refund to a chosen charity.
Members of the winning San Francisco team receive the title "San Francisco Masters of Code," which MasterCard says is "the first of its kind." They will also be wined and dined, as part of a MasterCard Priceless Experience in Napa Valley and San Francisco, and will receive a three-month membership at Impact Hub SF.
Most significantly, all the regional winners will be flown to Silicon Valley -- less of a benefit to the mostly local crowd than to those abroad -- to compete in the international finals at the end of the year. The Masters of Code Grand Finale offers a chance at $100,000 to develop an app idea, two weeks at MasterCard's Start Path accelerator, six months of mentoring with MasterCard's API team, and a year of free processing for up to $250,000 of transactions run through MasterCard's payment platform.
Twitter also offered some prizes: a Nest thermostat, a gift certificate for an Android Wear watch, and Raspberry Pi Starter Kit.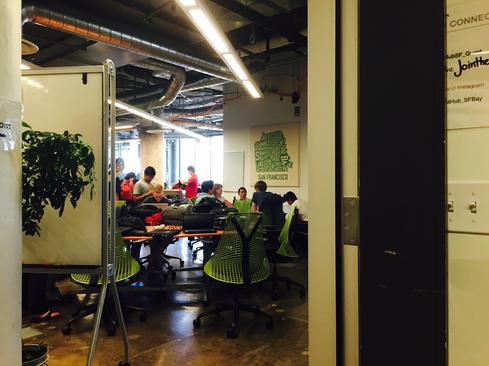 Hackathons are more popular than ever, said Brian Collins, chief marketing officer for AngelHack, which runs hackathons on its own and as a white-label service for clients such as MasterCard. Collins said his company is booked every weekend through the end of the year.
For MasterCard, its Masters of Code series provides an opportunity to seed future business relationships, promote the external use of its technology, and maximize its participation in the important mobile commerce market. Amid a wide range of competing mobile commerce technologies, developer attention, particularly when supported by consumer adoption, magnifies market relevance.
In an interview at the event, Sebastien Taveau, chief developer evangelist for MasterCard's Open API group, said that the aim of his team is to expose internal MasterCard technology to non-traditional partners. "To know what we need, we need feedback," he said. "When you have a hackathon, you're in front of the right audience. And they're not shy. They will tell you what they need, what they want, and what you're missing."
Taveau said that while MasterCard is a large company, it nonetheless values contact with entrepreneurs. "When you make yourself available to entrepreneurs, you make yourself available to innovation," he said.
Gassée had some advice for would-be entrepreneurs. "If you ever raise money, make it a three-slide presentation and shut up," he said. "I'm not kidding. You don't want to make the mistakes I made when I started my own company and the presentation lasted a couple of hours."
Investors, Gassée said, don't want to be deluged with information. "We care about you and us making money together. So be a fortune teller. Tell us how we're going to make a fortune together."
According to Gassée, your three slides should be as follows:
First, explain who you are, since your experience matters.
Second, show in a split view the world before your invention and the world after, because you're doing something important. "If you're not doing something important, don't bother," he said.
Third, show the money pump, otherwise known as the business model. Investors want to know how the money will flow back into their pockets.
Gassée closed by thanking the crowd. "You do us a favor when you come through our door," he said. "We have to have entrepreneurs."
Hackathons help supply that demand.