The need for interoperation among software-based products and services has become more acute in recent years as internet-connected devices have proliferated and as software shifts toward the cloud. With the introduction of Flow for iOS on Wednesday, Microsoft is taking another step toward enabling applications to play nice.
Generally speaking, it's remarkable how poorly software-based products and services communicate. In theory, they're capable of speaking a common language out of the box, yet many technology companies seem to consider erecting barriers to interoperability to be more profitable than openness.
In some cases, companies simply prefer to ship before implementing an API that facilities communication. Or, perhaps the standards process doesn't move at the speed demanded by the market.
So we have middleware, or glue services, to help information technology exchange information.
[Are you ready for the bot invasion? Read The Rise of the Bots: 11 Ways Your Business Can Prepare.]
IFTTT, Tasker, and Zapier are a few of the better known glue services to emerge in recent years. They allow people to automate interactions between internet-enabled products and services.
A few years ago, the term was "mash-up." Yahoo Pipes (2007-2015) provided a way to aggregate web data, though it was more focused on repurposing RSS feeds that triggering events. Google Mashup Editor and Microsoft Popfly, both discontinued, had similar middleware aspirations.
In April, Microsoft returned to the ring with Flow, a way to "automate time-consuming tasks," as the company explained on its website. It may take time to figure out how to use Flow and to build your automated workflow, but perhaps the service will save time in the long run.
The introduction of Flow for iOS makes the service significantly more useful, because users can manage their flows using a mobile device. An Android version is coming shortly, according to Microsoft.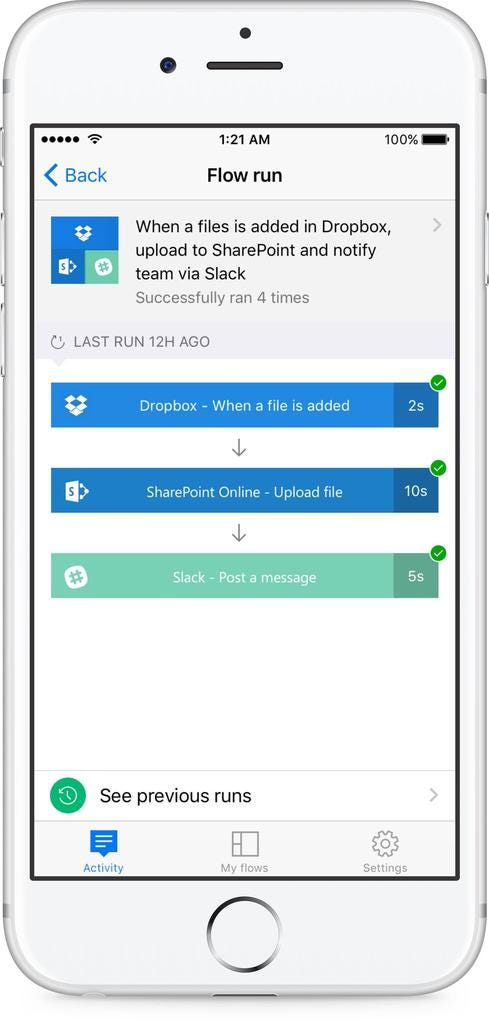 Stephen Siciliano, principal group product marketing manager for Microsoft Flow, explained in a blog post a few possible uses for the service. Siciliano says he uses Flow to send a text message to his phone whenever an email from his boss arrives, to search for Twitter posts about Flow and save them to an Excel file, and to move SharePoint files to a different folder once the files get approved.
The possibilities, while not quite endless, are extensive.
Flow functions with Microsoft as well as third-party services. It supports 36 endpoints at the moment, including Box, Excel, Google Drive, Office 365 Outlook, and OneDrive. However, in May Microsoft added support for custom APIs, which means Flow can be connected with any RESTful app, given the appropriate lines of code.
Microsoft offers an enterprise-oriented automation service called Logic Apps for business workflows in its Azure cloud.
With the all the interest in bots at the moment, many of these glue services could ultimately become the purview of smart assistants. Fun as it may be to construct automated workflows through a web or mobile interface, it would be easier still to tell Cortana or Siri, "Text me when I get an email from my boss."