Microsoft Office for Android tablets has officially launched, bringing Word, Excel, and PowerPoint to the Google Play store. It's welcome news to Android users at the tail-end of a three-month preview process.
The beta version of Office for Android tablets became available in November 2014, when users were given the opportunity to test the apps and provide feedback to over the course of its development. The preview generated more than 250,000 downloads of Word, PowerPoint, and Excel across 500 device models of varying sizes and capabilities.
Microsoft announced that the final product release would occur early in 2015, and now it's living up to its promise. The final version of Office for Android bears striking similarity to Office for iPad and iPhone, which was released almost one year ago and has been downloaded more than 80 million times.
Android customers will find familiarity in the appearance of the new Office apps, which closely resemble their respective desktop versions but are optimized for mobile use. The Office ribbon lends itself to easy navigation and features large touch points to accommodate touchscreen commands.
The Android versions of Word, Excel, and PowerPoint also function similar to their iOS counterparts and allow users to create and edit documents, spreadsheets, and presentations on a variety of customizable templates. Recent documents can be opened on OneDrive or Dropbox accounts.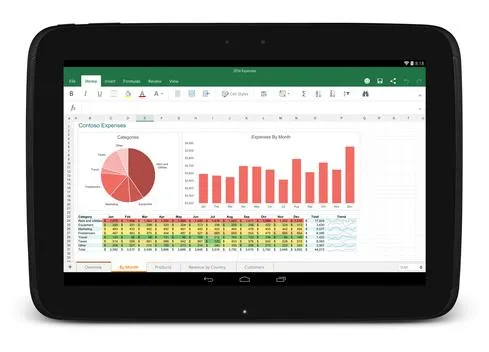 With its most recent announcement, Microsoft has officially brought full versions of its Office suite to all major mobile platforms and unified its appearance across devices. There is also little difference in functionality, as the iOS and Android versions of Office draw from the same codebase, as reported by TechCrunch.
Starting the morning of January 29, the completed Android-compatible versions of Microsoft's Word, Excel, and PowerPoint will be available for download. Devices must be 7" or larger, possess an ARM-based processor and at least 1GB of RAM, and run Android 4.4 KitKat or more recent software. Those larger than 10.1" require an Office 365 subscription to create and edit documents.
[Can you really compare HoloLens and Google Glass? Experts say no.]
The release of Office for Android comes hot on the heels of Microsoft's Jan. 21 announcement that Office for Windows 10 will be compatible for mobile and touchscreen devices. Its preview revealed a version of Office that is intended to work seamlessly across mobile devices.
Attend Interop Las Vegas, the leading independent technology conference and expo series designed to inspire, inform, and connect the world's IT community. In 2015, look for all new programs, networking opportunities, and classes that will help you set your organization's IT action plan. It happens April 27 to May 1. Register with Discount Code MPOIWK for $200 off Total Access & Conference Passes.