Microsoft has released a new version of Outlook for iOS and a preview of Outlook for Android. Both apps will work in sync with Office 365, Outlook.com, Exchange, Yahoo! Mail, Gmail, and other major email services.
While most users access email on their smartphones, complicated tasks such as sorting through piles of email, sharing files, and organizing schedules are put aside until a PC is available. Microsoft's goal is to provide core email productivity tools in a format that is easily usable on smartphones so consumers can better manage their messages throughout the day.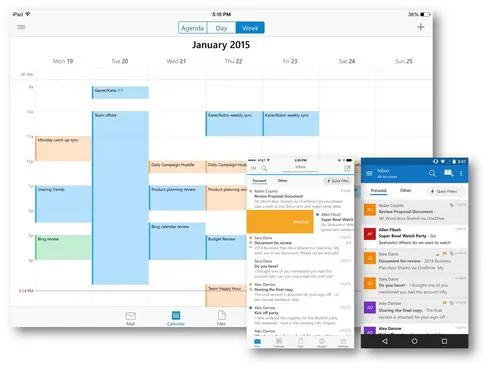 The latest versions of Outlook arrive shortly after Microsoft's acquisition of Acompli, a cross-platform email startup with an app that provides new ways of organizing inboxes, handling attachments and files, and scheduling meetings.
The new app separates email into two tabs entitled "Focused" and "Other" to help users prioritize important emails and handle message overload. The app learns more about the user based on what goes into the Focused pile and tailors preferences accordingly. Swiping left or right can delete, flag, archive, or move emails. Its "Schedule Email" feature temporarily eliminates certain emails that can be scheduled to deliver later.
[Want more Microsoft news? Read Office Arrives on Android Tablets.]
New versions of Outlook integrate the calendar within the app to facilitate scheduling and direct access to meeting details and attendees. The calendar lends itself to on-the-go planning with a "Send Availability" feature that helps find available meeting times within emails and create meeting invitations.
Outlook for iOS and Android is designed to be familiar to users of both platforms. iOS devices will display familiar icons and symbols for creating new messages; the Android display will include a Navigation Drawer for various tools within the app and settings available in the App Overflow menu.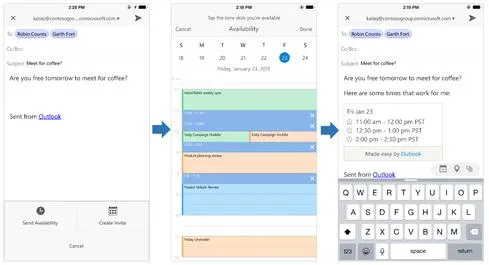 While it's designed to work across phones and tablets on both platforms, larger devices will benefit from additional capabilities like a week-in-view calendar, access to file previews, and a two-paneled email list.
The new iOS and Android apps will also be familiar to users of Acompli, as its code base will serve as the foundation for future Outlook updates. Microsoft promises rapid updates in the future to deliver a consistently familiar experience to Outlook users.
Microsoft intends to use Outlook for iOS and Android to replace the platforms' current Outlook Web Apps and Android's Outlook.com app. This won't take place immediately; officials claim that its older offerings will remain in app stores until summer.
Attend Interop Las Vegas, the leading independent technology conference and expo series designed to inspire, inform, and connect the world's IT community. In 2015, look for all new programs, networking opportunities, and classes that will help you set your organization's IT action plan. It happens April 27 to May 1. Register with Discount Code MPOIWK for $200 off Total Access & Conference Passes.