Microsoft has announced a design makeover for its mobile Outlook app on iOS and Android devices, as well as the shutdown of calendar app Sunrise.
Outlook for Android and iOS was first launched in January. The rollout followed Microsoft's acquisition of email app Acompli in December 2014 and preceded the purchase of calendar app Sunrise in February 2015.
The new Outlook quickly grew in the nine months following its debut. Microsoft reports almost 30 million people actively use the mail app on smartphones and tablets, and one in five users connects to multiple accounts.
[ More on iOS: Strong iPhone demand propels Apple earnings. ]
As the Outlook user base grew, so did its team. Employees from both Acompli and Sunrise joined the Outlook division, and their influence is clear in the subtle but noticeable design changes in the updates for iOS and Android.
iOS users can now download the latest version of Outlook; Android users will receive their updates in early November.
What has changed in the new Outlook? Here's what users can expect to see:
Outlook For iOS
Microsoft made minor improvements to the layout and navigation of Outlook for iOS, including more visual cues and better access to key features. Email, calendar, people, and files are now located front-and-center of the app.
A small but handy addition is a new "event" icon intended to make events more prominent in your message list. Icons for "flag" and "attachment" are also more visible, similar to Outlook's layout on Windows, and attachment options are more accessible when writing a message.
Outlook's calendar has also been revamped for easier navigation. The "Today" button moves as you scroll through the calendar, and days in the past are colored gray. Event details such as date and location are located at the top of the page, and attendees' responses are denoted with green, gray, and red dots.
Outlook For Android
The new Android-friendly version of Outlook better leverages Google's Material design. Its header, message list, and compose experiences have all been changed.
Scrolling through your messages, you'll see contact images to the left of your emails and more prominent icons for read and unread messages, attachments, and event invitations.
The calendar now has an updated UI with more event information. Event details, people list, and contacts' information have been updated with a Material design.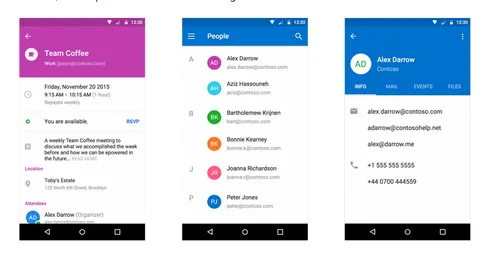 Sunrise Integration
Microsoft promises further changes to the Outlook calendar in the coming months. These will reportedly include "Interesting Calendars and connections to your favorite apps and services," as written in an Office blog post. Other improvements will address the ability to create meetings on the go and manage meetings in different time zones.
The company confirms Outlook will eventually replace the current Sunrise app, but Sunrise will stay on the market until its features are entirely built into Outlook.
As for Windows Phone, Microsoft promises an Outlook mobile app update is "coming soon" but did not disclose specific details.