Performance dashboards and scorecards represent a turning point in business intelligence software. These tools resonate with executives, managers and operations staff in a way that previous BI tools did not. With a quick glance, business users can see the status of key processes, projects or activities and take action. Critical information is placed at your fingertips without overloading you with unnecessary detail.

Executive Summary
'Performance management" is the buzz as organizations strive to employ information riches to improve strategic alignment, sharpen insight into financial performance and execute business-critical operations. With portals and other interfaces approaching mainstream acceptance as single, organized access points for widening populations of users, companies must exploit their potential for communication and collaboration between executives, line of business managers and employees.
Dashboards fulfill this need by letting more members of an organization monitor critical information; analyze and explore performance data; and communicate and collaborate effectively. Conventionally, organizations have tried to gain these capabilities with BI reports and spreadsheets — a flawed practice at best. Users have had to get in line for IT analysts to create the reports; then, if users need data outside their realm, they must go to individual department heads to find and incorporate that data in haphazard fashion. Finally, typical procedures give IT organizations little chance of maintaining data quality.
Dashboards provide a stronger measure of control while allowing greater data visibility and access. Dashboards increasingly are paired with scorecards, which supply key performance indicators and metrics to help an organization understand how it's doing against key objectives. Balanced scorecards equilibrate financial performance with other measures, such as customer satisfaction and employee learning and growth.
Scorecards succeed or fail with the quality of their metrics. Thus, organizations must develop metrics carefully, collaboratively and with room for flexibility to improve and refine them over time.
Dashboards and scorecards can help transform underperforming organizations into high fliers. They help you focus on the key objectives and provide timely alerts so you can fix problems or exploit opportunities before it's too late. As the name suggests, dashboards provide controls that executives can use to change the direction of an organization and get everyone headed in the same direction.
But not all dashboards and scorecards are created equal. Some are simply prettified versions of spreadsheet-like reports. Like pigs with lipstick, such dashboards and scorecards are dolled-up "spreadmarts" that can obscure what's important and undermine performance. The best performance dashboards and scorecards are part of a layered set of analytical applications. The dashboards let users measure, monitor and manage the processes and activities for which they are accountable. Read on to find out how to map strategies and choose metrics that will steer you away from trouble and onto the right track.
Tap the Power of Layers
Performance dashboards and scorecards marry enterprise BI and business performance management. To succeed, these tools must embody a business architecture that aligns users and groups with strategic goals, using leading and lagging metrics to translate objectives into visual indicators tailored to each individual, role and group in the organization. Performance dashboards and scorecards must be built on a robust technical architecture that gives users layered access to summarized and detailed data, integrated from multiple sources and delivered in a timely fashion.
Many people and most vendors think of dashboards and scorecards as two applications with distinct functionality designed to meet separate requirements. But they're really flip sides of the same coin — both are visual tools for monitoring critical business-performance metrics. As such, they form the top layer of a multilayered analytical application (see the "Integrated BI capabilities" portion of the diagram "Architecture of a Performance Dashboard").
The top monitoring layer uses dashboards, scorecards or alerts to notify users of material changes in the performance of processes and activities. The analysis layer lets users drill down into exception conditions and explore a problem's root cause using multidimensional analysis. The reporting layer provides users with detailed operational data (such as a list of defective parts and the customers who received them) so they can take prompt action. The planning layer lets managers employ the output of their analyses to create plans, models and scenarios, which are then fed back into the monitoring layer and encoded as targets and thresholds.
Adding a monitoring layer on top of the analysis, reporting and planning layers creates a harmonious data-delivery environment that lets you work the way you want to, instead of forcing you to conform to the way the tools work. You can monitor a few key metrics visually and then drill down into more detailed data to perform a root-cause analysis as needed. Executives and managers may work entirely at the monitoring layer, assigning analysis tasks to subordinates. Business analysts may enter at the analysis layer while operational specialists may work mostly at the bottom layer. No matter where you start, you should be able to move up and down layers seamlessly without awkward context shifts to gather insights, take action and optimize performance.
Develop a Business Architecture
Technology is the easy part of implementing these tools. The hard part is developing a business architecture to drive the dashboards and scorecards. If you don't have a coherent business strategy or haven't translated that strategy into a series of interrelated objectives and metrics, a performance dashboard is going to drive the organization faster, but in the wrong direction.
Executives must be willing to dig into the business and understand what drives internal company behavior and external customer behavior. Unfortunately, most executives have erroneous assumptions about what drives the business. Most never test or validate assumptions and, as a result, make poor decisions and plans that leave the business vulnerable to "unseen" market forces.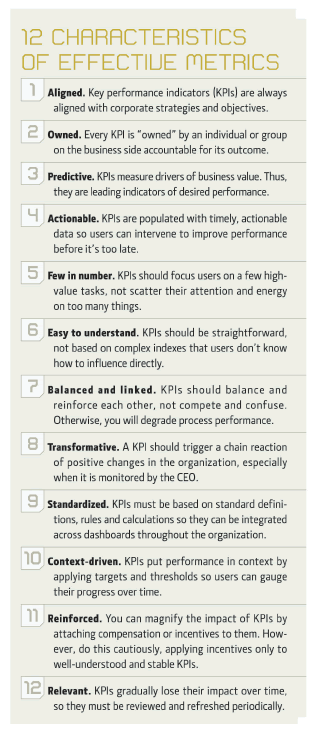 To overcome this problem, many organizations are turning to the "Balanced Scorecard" methodology developed by Robert S. Kaplan and David P. Norton, which forces you to articulate a clear strategy, translate it into workable performance metrics and then test and revise strategic assumptions on a regular basis. The Hewlett-Packard Technology Services Group, one of four HP divisions, uses Balanced Scorecard to refine its understanding of business value drivers. By capturing and analyzing performance metrics on an ongoing basis, the division can accurately predict the amount of new revenues it would gain if it were to increase customer loyalty by a single percentage point.
The "Business and Technical Architectures" diagram depicts how business architecture influences the technical architecture of a performance management system. You must understand the needs of the organization's stakeholders (including investors, the board, employees, customers and suppliers) and establish strategies to meet those needs (such as setting a mission, objectives and vision). You can then use tactics and resources (such as money, people, processes, plans or initiatives) to implement the strategies. Without common semantics to define business terms and calculate key metrics, individuals will work at cross-purposes and nothing much will get done.
Use Effective Metrics
Finally, it's critical to translate strategies and tactics into leading, lagging and diagnostic metrics. These key performance indicators (KPIs) are the linchpin of the performance management system because they knit together the business and technical architectures. The system will only be as effective as the metrics it measures and monitors. If the metrics don't reflect key values, the dashboard or scorecard will drive the organization in the wrong direction, leaving behind a trail of exasperated and demoralized employees.
Many executives and managers find that strategy maps are the key to creating effective metrics. Strategy maps help executives identify objectives to achieve the strategy and the metrics to measure those objectives. The maps span different perspectives (including finance, the customer and internal employees) and layers of the organization (such as corporate, divisions, departments and regions). You can then determine how the objectives and metrics relate to one another. These "linkages" are assumptions about what drives the business; they can be modified or extended easily as data is collected for each of the metrics represented in the map.
Strategy mapping is a methodical way to design and refine KPIs, but creating effective metrics is often more of an art than a science. Don't try to create the perfect metric or you'll fall prey to analysis paralysis. Once a metric is about 80 percent complete, apply it in practice. You won't really understand how metrics influence behavior until you put them out there in the real world. Outlined at right are 12 characteristics of effective metrics.
Create a System, Not Just an Interface
Once the business architecture is defined, you can build the infrastructure to display and manage the data that will populate the dashboards and scorecards. Keep in mind that a performance dashboard is a full-fledged business information system. It consists of a layered set of analytic applications that run on a common set of BI services, including security, metadata repository, query engines and reporting engines. As shown in the "Architecture of a Performance Dashboard" diagram (at right), this service-oriented BI architecture in turn runs on a data management infrastructure that integrates and delivers information and insights to users on demand.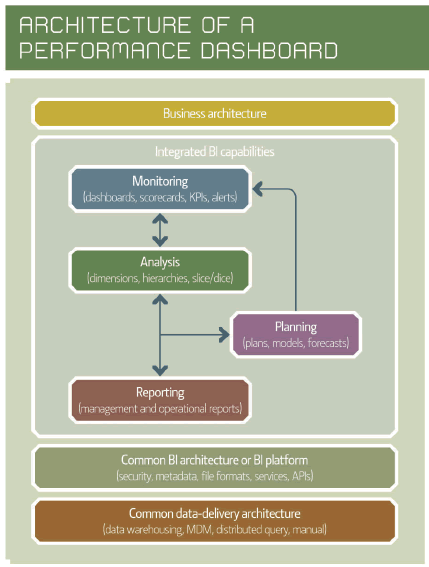 Starting with the crucial top layer for information delivery, a performance dashboard uses a set of layered applications built on common BI services. Data infrastructure supports the dashboard by integrating disparate information in a timely manner.
Ideally, a performance dashboard takes advantage of investments you've made in information architecture, data warehousing, data integration, reporting, analysis and planning applications. The dashboard is how you are creating tangible business value out of this infrastructure. Alas, too often not all performance dashboards have the infrastructure to deliver real insights and long-term value. Products with glitzy graphical interfaces have tantalized many organizations, leading them to implement pseudo performance dashboards that are:
» Too Flat. A quick and popular way to create performance dashboards is to use Microsoft Excel, PowerPoint and more advanced charting packages. These applications often look fancy, but they don't provide enough data or analytical capabilities to allow users to explore the root causes, even if they're highlighted by fancy graphical indicators.
» Too Manual. Some firms rely too heavily on manual methods to update performance dashboards that contain lots of information. Skilled business analysts may have to spend several days a week collecting and massaging information and putting it in a dashboard or scorecard. Sometimes manual data collection is valid when the data doesn't exist in any system, when there isn't much data to load or when the dashboard fills a temporary business requirement or serves as a prototype for a future application. You want to free analysts of mundane tasks.
» Too Isolated. Some dashboards or scorecards contain data and metrics that don't align with the rest of the organization, leading to confusion. You will encounter managers that want to use the latest dashboard technology simply to automate their Excel reports. Don't deploy dashboards and scorecards in a vacuum, or you'll just create problems down the road.
Do You Build or Buy?
Two years ago, there weren't many commercially available dashboard or scorecard products worth purchasing. Today, however, established vendors and a slew of start-ups are battling in the marketplace with performance-dashboard products. Many BI vendors provide dashboard tools that display charts in a portal-like framework and scorecard tools that map and display strategic objectives and metrics. You also will encounter vendors that specialize in discrete areas of visualization, process management, performance management, Balanced Scorecards and portals. Providers of ERP applications also are active, touting their greater experience with the application data sources. They either resell or offer their own dashboards and scorecards.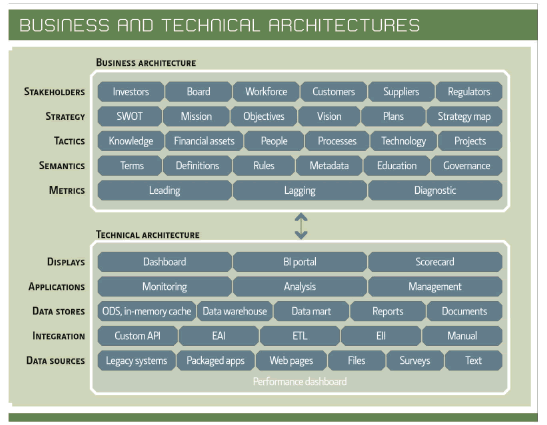 Leading, lagging, and diagnostic metrics from the linchpinthat connects a performance dashboard's business and technical architectures. Executive, employee and other stakeholder requirements as well as overall strategic objectives determine which elements of the two architectures must be aligned by the metrics linchpin.
Look for products that will help you clearly and concisely communicate key strategies and goals to all employees. Performance dashboards and scorecards are part of a layered set of analytical applications running on a common set of BI services; they let users measure, monitor and manage the processes and activities for which they are accountable. Don't forget that the system is dependent on a robust data management architecture that delivers actionable information to users on demand.
Dashboards and scorecards should translate the organization's strategy into objectives, metrics, initiatives and tasks customized to each group and individual in the organization. Don't settle for pretenders. Done right, dashboards and scorecards fulfill BI's ultimate potential: to become the critical tool for strategic decision making.
Wayne W. Eckerson is the director of Research and Services for the Data Warehousing Institute and the author of Performance Dashboards: Measuring, Monitoring, and Managing Your Business (John Wiley & Sons, 2005). Write to him at [email protected].