Uber soon will know the answer to a question raised by bumper-stickers on many vehicles traveling America's highways: "How am I driving?"
In a forthcoming update to the app used by Uber drivers, the transportation platform company has implemented safety telematics that measure the braking, acceleration, and speed of the vehicles used by its drivers.
The update also adds notifications designed to promote better driving, like reminders to take breaks and to mount the phone used for the driver app on the dashboard rather than keeping it in-hand. It adds daily driving reports that compare driving patterns to those of other drivers.
The update coincides with the approach of the Fourth of July in the US, a holiday consistently marred by driving fatalities. Uber says its driver app improvements can help reduce driving risks.
"Today too many people are hurt or killed on the roads," wrote Uber chief security officer Joe Sullivan and MADD national president Colleen Sheehey-Church in a blog post on Wednesday. "While alcohol is the leading cause of traffic crashes, there are other behaviors that can put people at risk -- for instance if drivers are on drugs, haven't gotten enough sleep or are distracted."
Data can help Uber drivers operate more safely. But it also helps Uber defend itself against competitors that would see the company hobbled by regulation, and against critics who claim the company's business practices are unsafe.
To counter its detractors, the company published data showing a correlation between declining DUI arrests and Uber usage. The Atlanta police department, the company said, reports that arrests for drunk driving fell from 2,243 to 1,535 between January 1, 2010 and January 1, 2016 -- a 32% decline. During that period, Uber pickups surged, suggesting a possible correlation.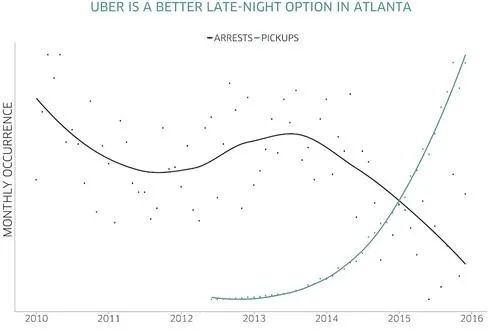 Uber is careful to avoid claiming credit for the DUI arrest decline, because correlation is not causation. But Sullivan and Sheehey-Church said in their blog post that Uber riders see a link between the service and reduced drunk driving. Certainly there's some interaction there.
With the addition of telematic data about driver behavior, Uber should be able to make an even stronger case about safety of its service, particularly compared to other transportation options that may not have drivers under comparable surveillance. Access to a broader set of data about how its drivers actually drive will allow the company to identify risky drivers and to correlate rider complaints with real measurements of vehicle braking, acceleration, and speed.
Uber began tracking driver behavior in Houston last November, according to The Wall Street Journal. The company says it plans to introduce the new telematics features in its driver app in 11 cities over the next few weeks.
It is, however, not the first business to collect information about its drivers. Fleet management companies have been collecting telematic data for years. More recently, insurance companies like Allstate have begun offering a rate discount for drivers who accept telematic monitoring.
In the years ahead, such technological oversight is likely to become difficult to avoid, because theoretical privacy risks will have trouble competing with the prospect of saved lives.
[Read Google, Uber, Ford Form Self-Driving Car Coalition.]
Studies indicate that telematics lead to better driving. The SAMOVAR research program conducted in Europe, for example, found that simply recording vehicle data led to a 28.1% decrease in the accident rate over a 12-month period, a result attributed to driver awareness that behavior can be checked.
There's a potential downside for Uber, however. By amplifying its capacity for driver oversight, Uber runs the risk of making its contract drivers look like employees to government regulators. Uber recently settled a challenge to its classification of drivers as independent contractors, thereby avoiding a judicial ruling on the issue.
But that does not preclude future litigation, and being able to exercise control over how work is done -- how drivers drive -- is one of the factors the IRS considers when evaluating whether a worker is an employee or an independent contractor.