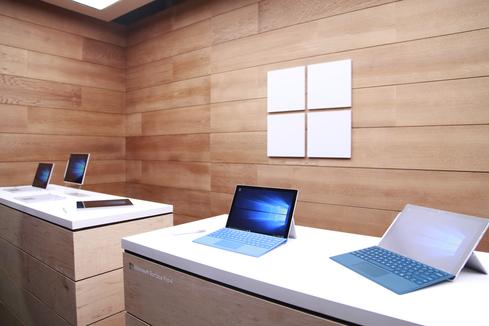 Surface Pro 4, Surface Book, Lumia 950: Microsoft's New Hardware Push
(Click image for larger view and slideshow.)
Windows 10 and Skype shared the spotlight this week. Microsoft released two new preview builds for both PCs and Windows Phone, and launched Skype for Business on iOS. Acer jumped in as well, with the debut of two new Windows 10 devices.
The Acer Aspire R 14 convertible notebook and the Aspire Z3-700 portable all-in-one PC were unveiled early in the week. Acer worked with Microsoft on device development to learn how each could make the most of Windows 10 features like Continuum and Cortana.
For example, both PCs are built with dual-digital microphones to optimize Cortana and stylus support. The R 14 is a convertible notebook with 360-degree dual torque hinge; the Z3-700 has two kickstands so it can stand or lie flat.
It remains to be seen whether the devices can help Microsoft and Acer in the battle against a struggling PC market.
[Work in progress: 7 improvements we'd like to see from Microsoft.]
PC users will want to keep their eyes out for Redstone, a feature update for Windows 10 that follows the minor Threshold 2 update. WinBeta reports that Redstone has entered the early stages of development and that engineers are beginning to lay down code.
We first learned about Redstone back in April, long before Windows 10 was released to the public. The update will deliver larger fixes and new features, and hopefully integrate support for devices that weren't available when Windows 10 launched. It's expected to roll out in June 2016.
Windows 10 will continue to receive minor updates before Redstone. Windows Insiders can test the latest batch of these in Preview Build 10565, which became available for download Oct. 12.
Build 10565 addresses several minor errors and introduces new features: Skype has been integrated into universal apps for Messaging, Phone, and Skype video. A new tab preview in Edge displays a snapshot of a Web page when you hover over its tab. You can also use the Surface Pen to write notes to Cortana, and enter a product key for Windows 7, Windows 8, or Windows 8.1 when downloading Windows 10.
PC Insider Preview Build 10565 can be used with the new Windows 10 SDK Preview and the associated Windows 10 Mobile emulators (Build 10563), which were also released this week. The preview SDK delivers bug fixes; Microsoft cautions it should not be used in a production environment.
Shortly after, Insiders running Windows 10 Mobile previews received Build 10549. Those who want to try it will have to download the build as a single update from Windows Phone 8.1, the result of a last-minute bug. You can do this by accessing the Windows Device Recovery Tool and installing the Windows Insider app on Windows Phone 8.1.
Build 10549 brings improvements to Messaging -- specifically a text box that expands as you type. Microsoft also promises that the Skype integration now available in Build 10565 for PCs will soon be ready for Windows Phone. Testers will also see an improved Cortana and more diverse emoji set.
iPhone and iPad users welcomed Skype for Business on iOS, which entered general availability this week. The app has a comprehensive dashboard from which you can access a contact search bar, upcoming meetings, and recent chats.
Microsoft promises future updates to Skype for Business will bring PowerPoint viewing capabilities during video calls. The app is now available as a universal app on iTunes and as an automatic upgrade for iPhone users running Lync 2013.
In other Skype news, users can now invite people to join a Skype chat, whether or not they have a Skype account, by sending a unique link via email, Facebook, Messenger, WhatsApp, or Twitter. Guests can join instant message, voice, and video chats via Skype for Web without creating an account or downloading the app.