Google on Wednesday introduced Android for Work, a program designed to make its mobile operating system better suited to the requirements of businesses.
The goal of Android for Work is to help employees bring Android devices into the workplace, to help companies manage those devices, and to use mobility to make business processes more efficient, said Rajen Sheth, director of product management for Android and Chrome for business and education, at a press event in Google's San Francisco office. The company announced the program at its 2014 Google I/O developer conference and now has its technology and partner ecosystem ready.
For business use, Android's advantage over other operating systems is faster innovation and greater choice, Sheth said. "One size doesn't fit all in the workplace," he said. "The device you give your CEO is not the same as the one you put on the shop floor."
Google's competition here is Apple's iPhone and iPad, which remain popular with individuals and with companies that manage mobile devices. Good Technology, which sells enterprise mobility management vendor, said that among its customers iOS device activations increased from 67% to 69% of all activations between Q2 and Q3 2014, while Android device activations slipped from 32% from 29%.
Android, however, leads in recent unit sales, with 76.6% of smartphone sales in Q4 2014, according to IDC, compared to 19.7% for iOS.
Android For Work's Four Components
The first of Android For Work's four components is work profiles, which amount to separate user accounts for work and personal activity. Work profiles rely on Android 5.0 Lollipop features such as encryption by default, enhanced SELinux security, and multi-user support to keep work data separate and secure. These features let IT administrators deploy and manage approved work apps without being able to affect personal apps.
Android for Work complements existing enterprise technologies for Android such as Samsung's KNOX, which implements additional security functionality like Trusted Boot, Secure Boot, and enhanced TIMA (TrustZone-based Integrity Measurement Architecture).
[ Read about how Google is getting into mobile payments. ]
The second component is the Android for Work app, which provides older devices (Ice Cream Sandwich through Kitkat) most of the functionality built into Android 5.0 Lollipop. While the Android for Work app doesn't allow users to split their work and personal profiles the way Android 5.0 does, it looks the same to enterprise mobility management services and can be managed accordingly.
The Android for Work app may convince some Android users it's worth upgrading, something they seem reluctant to do. Presently, only 1.6% of Android devices are running Android 5.0. Apple's latest operating system, iOS 8, is now used on 73% of iOS devices.
Third, Google is offering a store for Android business applications, Google Play for Work. The store allows business IT administrators to deploy applications to managed devices and provides a venue for companies to distribute apps with enterprise-oriented APIs.
Fourth, Google has created a set of distinct business apps -- Work Email, Work Contacts, Work Calendar, and Work Tasks -- for email, contacts, and scheduling that supports both Exchange and Notes. The apps can pull in Gmail account messages if desired, but Google assumes most people will just use the Gmail app directly for that. The company also has apps that provide editing for documents, spreadsheets, and presentations.
Along with these technological pillars, Google has partnered with a variety of companies that are providing hardware, software, and services to enhance enterprise mobility. These include Adobe, Box, BlackBerry, Dell, Citrix, HP Motorola, SAP, Salesforce, Sony, and Samsung, among others.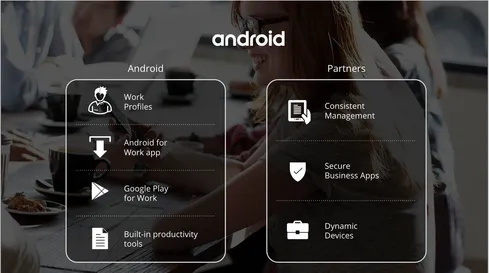 Attend Interop Las Vegas, the leading independent technology conference and expo series designed to inspire, inform, and connect the world's IT community. In 2015, look for all new programs, networking opportunities, and classes that will help you set your organization's IT action plan. It happens April 27 to May 1. Register with Discount Code MPOIWK for $200 off Total Access & Conference Passes.