Nevada has granted the first license to operate an autonomous commercial truck on public roads in the US to Daimler Trucks North America (DTNA).
Although the vehicle's manufacturer, DTNA's Freightliner subsidiary, stressed that a driver will still be required, the news marks an important step forward for any enterprise involved in moving goods from one place to another. And it raises important questions about whether trucks and other vehicles will someday become yet another form of computer hardware that falls under the purview of IT professionals.
[ So, you thought managing BYOD was hard? Read IoT And The Looming Mobile Tidal Wave. ]
Freightliner intends to test the Freightliner Inspiration Truck. The vehicle includes a camera and radar system, called Highway Pilot, that keeps the truck in its lane, avoids collisions, controls speed, braking, and steering, and presents information to the driver via a dashboard display.
The company said it is investing in automation technology to improve safety and fuel consumption in order to reduce traffic delays, improve the driving experience, benefit from connectivity, and help the environment.
The National Highway Traffic Safety Administration defines five different levels of automation:
No-Automation (Level 0)
Function-specific Automation (Level 1), such as electronic stability control
Combined Function Automation (Level 2), such as adaptive cruise control in combination with lane centering
Limited Self-Driving Automation (Level 3), such as a Google self-driving car prototype, in which a driver is expected to be present and at least occasionally in control
Full Self-Driving Automation (Level 4), which allows for, but does not require, a driver providing navigational input
The Freightliner Inspiration Truck is considered a Level 3 vehicle.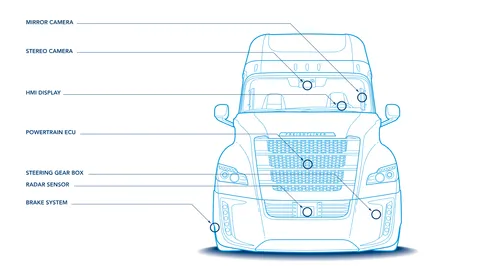 Freightliner stressed that its autonomous truck is not a driverless truck. "The technology being developed as part of the Freightliner Inspiration Truck, along with regulations, requires that a qualified truck driver with a valid commercial driver's license be in the cab and at the controls," the company stated on its website.
Such sentiment no doubt plays well with truck drivers and the Teamsters union. But not all companies seek to assuage worries about technology as a driver of unemployment. In 2014 at the Code Conference, Uber CEO Travis Kalanick expressed interest in self-driving cars because there's no driver to pay. "When there's no other dude in the car, the cost of taking an Uber anywhere becomes cheaper than owning a vehicle," he said, according to The Verge.
A 2014 RAND report said that policymakers should consider the history of airbags in cars as an analogue for how autonomous vehicle technology may evolve. Airbag safety was oversold, the report suggested, noting that regulators in 1977 assumed the devices would save 9,000 lives per year. Subsequently, the NHTSA estimated that airbags saved only 8,369 lives in the 14 years between 1987 and 2001. And the safety devices were also responsible for 291 deaths between 1990 and July 2008, mainly because their force, calibrated to adult males, could be lethal to smaller passengers.
While autonomous vehicles appear likely to bring at least some of the social and economic benefits technology advocates suggest, they could also fall short or create unanticipated problems. "Suppose pedestrians become accustomed to cars automatically braking in their presence," the report said, noting that regulations should shape social expectations.
Four states -- California, Florida, Michigan, and Nevada -- and the District of Columbia allow autonomous vehicle testing on their roads. "The application of this innovative technology to one of America's most important industries will have a lasting impact on our state and help shape the New Nevada economy," said Nevada Gov. Brian Sandoval in a statement at the Las Vegas Motor Speedway on Wednesday.
In 2012, Nevada granted Google the first license to operate a self-driving vehicle, under a 2011 state law that allowed autonomous vehicle testing.