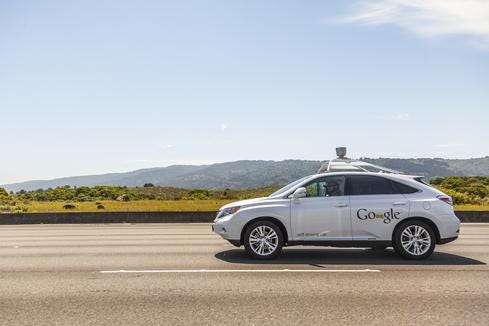 Google, Tesla, Nissan: 6 Self-Driving Vehicles Cruising Our Way
(Click image for larger view and slideshow.)
American automaker Ford announced its intention to invest $4.5 billion in electric vehicles (EVs) by 2020, adding 13 new electrified vehicles to its portfolio by the end of the decade. That will represent more than 40% of the company's global nameplates.
Ford's first vehicle to launch under the initiative will be an updated Focus Electric, which will debut next year with an improved DC fast-charge capability that the company claims will deliver an 80% charge in around half an hour -- an estimated two hours faster than today's Focus Electric.
In addition, the Focus, which comes in a sedan and hatchback model, will have a projected 100-mile range.
"The challenge going forward isn't who provides the most technology in a vehicle but who best organizes that technology in a way that most excites and delights people," Raj Nair, executive vice president of product development at Ford, said in a statement. "By observing consumers, we can better understand which features and strengths users truly use and value and create even better experiences for them going forward."
The Focus Electric, which will be available to North American and European customers, will also feature Ford's SmartGauge with EcoGuide LCD instrument cluster to help drivers see real-time EV power usage, and Brake Coach, which teaches the driver how to use smooth braking to maximize energy captured through the vehicle's Regenerative Braking System.
While the Focus Electric will initially only be available in those two regions, Ford is also planning expanding its EV offerings to growing markets, including China, Korea, and Taiwan.
"As both an auto and a mobility company, we at Ford are going further than just designing the product to move people from point A to point B," Nair continued. "We are considering the way customers interact with our vehicles as a unified experience, looking for ways to excite and delight customers and make their lives better."
Ford is also planning investment in global social science-based research to gather insight as to how users interact with vehicles. It has invested $2.1 million in a battery lab at the University of Michigan to boost research and development.
[Find out why Porsche is picking Apple's CarPlay for its vehicles.]
The company hopes to gain insight into the cognitive, social, cultural, technological, and economic factors that influence product design.
In addition, Ford is doubling the number of projects that use ethnographic research over this year's number with the help of ReD, a social science-based strategy consultancy.
"This new way of working brings together marketing, research, engineering and design in a new way to create meaningful user experiences, rather than individually developing technologies and features that need to be integrated into a final product," Nair said.
"We are using new insights from anthropologists, sociologists, economists, journalists and designers, along with traditional business techniques, to reimagine our product development process, create new experiences and make life better for millions of people."
**Elite 100 2016: DEADLINE EXTENDED TO JAN. 18, 2016** There's still time to be a part of the prestigious InformationWeek Elite 100! Submit your company's application by Jan. 18, 2016. You'll find instructions and a submission form here: InformationWeek's Elite 100 2016.