Google has redesigned its mobile ad formats to make them more effective for marketers.
At the Fairmont Hotel in San Francisco on Monday, Google provided journalists with a preview of what the company planned to announce at its Google Performance Summit. The event, amid chandeliers in a Beaux-Arts ballroom, was about as different from last week's sun-drenched Google I/O 2016 as it could be. Google's ad technology is where the company's money is made, and it showed.
With mobile devices continuing to gain marketshare faster than desktop computing devices -- the environment in which Google's ad technology evolved -- mobile ads have become a bigger part of the company's advertising business.
That's true in the figurative sense but also literally: Google is expanding the amount of text in its ads, with longer headlines and descriptions. Given the small screen size of mobile devices, that may seem counterintuitive, but according to Jerry Dischler, VP of product management for AdWords, the expanded ad format has performed as much as 20% better than current text ads for some clients.
[What will catapult your career to the next level? Read 8 Non-Tech Skills IT Pros Need to Succeed.]
Google's text ads will move from one 25-character headline to two 30-character headlines. The two 35-character description lines will be consolidated into a longer 80-character description.
To reduce the likelihood of rejected ads, Google plans to replace its manual URL entry mechanism with automatic domain detection. Advertisers will be able to customize URL paths after that.
Google is also introducing responsive display ads on the Google Display Network, meaning the ads adapt to the size of the viewer's display screen. Advertisers simply need to provide a headline, description, image, and URL, and Google will generate ads that are visually appealing across a variety of potential screen sizes.
According to Ramaswamy, the Google Display Network reaches over 90% of the Internet users on the planet.
In addition, Google plans to allow advertisers to optimize individual bids in accordance with the type of device presenting the ad -- mobile, desktop, and tablet. So if iPad users represent an essential group of potential customers, interested advertisers can bid accordingly for access.
"Mobile for the last few years used to be something that was going to happen, or perhaps was happening," said Sridhar Ramaswamy, SVP of ads and commerce at Google. "But we think of this year as the year mobile has happened."
Ramaswamy said there are trillions of searches submitted to Google every year and more than 50% of them come from smartphones. "It's very clear to us, it's very clear to all the advertisers we speak with, that mobile is something that's already here. It is the mainstream," he said.
Ramaswamy said that last year, Google's search and advertising tools drove more than $165 billion in economic activity across over a million businesses in the US.
Dischler said that almost one third of mobile searches on Google are related to location, and that during the past year location-related mobile searches grew at a rate 50% faster than mobile searches in general.
"The way that we find and discover things has changed," said Dischler.
In light of the growing importance of location-based searches, Google is revising local search ads on Google.com and Google Maps. Advertisers taking advantage of location extensions will be able to have their business location presented when people search for a relevant business nearby. They will also be able to enhance the way local businesses appear in mobile searches through the addition of special offers and product inventory information.
What's more, Google plans to make brands more visible on Google Maps. It's testing promoted pins for coffee shops, gas stations, and restaurants along navigation routes on Google Maps.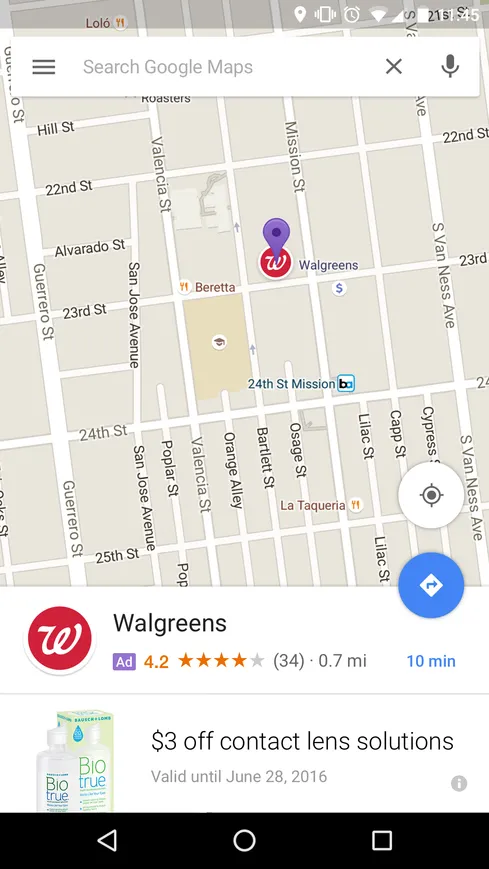 Google's digital ad technology is proving to be helpful to merchants operating physical stores, where, according to Google, 90% of global sales still take place. Based on Google's AdWords store visits measurement tool, retailing giant Target has found that one in every three people who click on a search ad head into a store to shop, said Dischler, noting that Target is increasing its investment in digital media and pulling away from more traditional media.
"The fact that we're driving more incremental store visits than we are online conversions for these retailers is a game changer," said Dischler.
Get Your Dream Job. Use InformationWeek's hosted, searchable job board to land your next gig in tech. Start your search here.