a bit oversaturated, and its color calibration is noticeably biased toward reds, sometimes distractingly so. The hardware never felt as comfortable in my hand as an iPhone. The One (M8) has a much bigger screen, so some of this discrepancy surely relates to size. I have medium-sized hands, and found I could just barely operate the One (M8) one-handed. But in other ways, the device just doesn't feel organic in my hand; something about the shape and finish makes me feel like I'm going to drop it. I also wish the power and volume rocker buttons protruded a bit more.
With a Dot View cover on, the device is easier to grip -- but I found the cover itself somewhat frustrating. The first time I attached the accessory, it wigged out, displaying a bunch of gibberish. I haven't been able to replicate that problem, but other aggravations persist. When I swipe down to summon Cortana, for example, the gesture works only some of the time. Others seem to be more satisfied with the Dot View, but after a few days, I started using the One (M8) without it.
HTC's proprietary technology can be fun, but most of it either duplicates something already found in Microsoft's OS, or amounts to little more than a novelty. The rear camera's parallax effect is fun but limited, and though the camera offers a range of manual controls and a variety of filters, its miserly 4-MP resolution produces low-contrast, low-detail shots. The camera also has a 5-MP front-facing camera, which might compensate for the unimpressive rear unit, if you do a lot of Skype or like selfies -- but compared to 16-MP and 41-MP sensors in Nokia Windows Phones, the HTC's photographic tools don't match up. BlinkFeed, meanwhile, does a lot of the same things Cortana does. Moreover, thanks to Cortana's machine-learning capabilities, the virtual assistant does many of these things, such as gathering news that suits your preferences, better.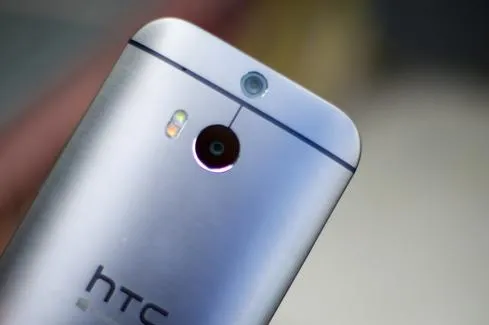 And then there's the ongoing bane of Windows Phone's existence -- apps. Windows Phone 8.1 has access to more than 300,000 titles, less than one-third the total in iOS and Android's respective catalogues. Many major apps have finally made it to Windows Phone, but they're often not as fully featured as those on other platforms. Instagram for Windows Phone lacks the iOS version's ability to shoot video and edit photos, for example. Many apps that are free on iOS and Android also cost a few dollars on Windows Phone.
Ultimately, the One (M8) is a reasonable option for Windows Phone fans. According to a recent survey, Windows Phone users are less likely than Android or BlackBerry users to switch to the upcoming iPhone 6 -- so it's positive for such a loyal group to have more options, and good for the smartphone market to see more flagship competition. But will the One (M8) tempt any Android or iOS users to join Windows Phone? Time will tell, but as for me, I'm probably still going to buy an iPhone 6.
In its ninth year, Interop New York (Sept. 29 to Oct. 3) is the premier event for the Northeast IT market. Strongly represented vertical industries include financial services, government, and education. Join more than 5,000 attendees to learn about IT leadership, cloud, collaboration, infrastructure, mobility, risk management and security, and SDN, as well as explore 125 exhibitors' offerings. Register with Discount Code MPIWK to save $200 off Total Access & Conference Passes.