with i5 chips. Those who don't need the extra power, or the toll it will likely take on battery life, can still opt for a Surface Pro 3 with less-expensive i3 and i5 processors.
5. A lighter body.
Earlier Surface Pro models were light for laptops but clunky for tablets. The Pro 3, in contrast, is sleek and slender according to almost any definition. The tablet is only 0.3 inches thick and weighs less than two pounds.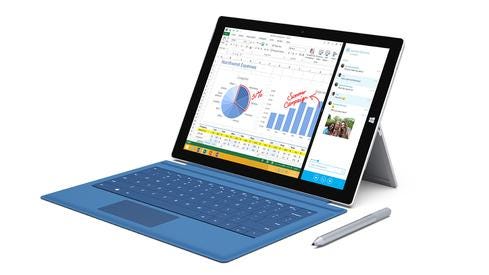 6. New Touch Covers.
It's frankly annoying that Microsoft continues to sell Surfaces and keyboards separately. Nevertheless, the new, larger Touch Covers introduced for the Pro 3 offer solid improvements. First and foremost, they should be less cramped than earlier versions. Panay also promised an improved track pad experience, conceding that scrolling and tapping on previous models left much to be desired.
7. Optimized Surface apps.
Microsoft said its partners are producing a range of apps optimized for the Surface Pro 3's pen-and-touch UI. Adobe, for example, demonstrated a version of Photoshop with larger, more touch-friendly icons and extensive support for pen input. Microsoft promised that Surface-optimized professional medical and architectural apps are coming.
8. Better battery life.
Microsoft claims the Surface Pro 3 can run up to nine hours between charges. Demanding apps will probably drain the battery faster than web browsing, of course. Also, Pro 3s configured with faster chips will probably burn through juice more quickly -- so take Microsoft's claims of all-day battery life with an appropriate grain of salt. Nevertheless, even if the Surface Pro 3 can't quite match the MacBook Air for battery life, it's a massive improvement from the first-generation's four-hour limits, and a solid bump from even the improved Surface Pro 2.
What do Uber, Bank of America, and Walgreens have to do with your mobile app strategy? Find out in the new Maximizing Mobility issue of InformationWeek Tech Digest.