probably be a better way to manage battery life than periodically removing a module for charging and not having access to its communication capabilities.
The modules for Apple's electronic wristband could include: an updated iPod Nano, a fitness module, a health module, an authentication and identity module, a notification module, a personal security module, and devices that mix and match these and other functions. The hardware could consist of some or all of the following: a touch-sensitive screen, an audio jack, a speaker, a microphone, an accelerometer, an antenna, a GPS receiver, a gyroscope, a haptic feedback device, a wireless communication transceiver, and sensors that measure proximity, biometrics, or force.
Apple's patent and illustrations suggest the company has reimagined its digital hub strategy for wearables. One drawing shows Apple's electronic wristband with three lines radiating outward, to a desktop computer, a portable computer, and a mobile phone.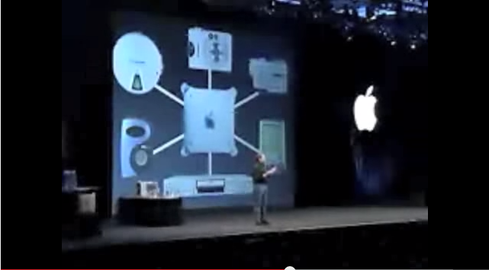 Apple presented a conceptually similar graphic way back at Macworld 2001 with the debut of its digital hub strategy (see above). In that instance, the Mac rather than the wristband stood at the center. But Apple's approach to hardware remains the same: Make its devices complement one another so the whole ecosystem has more value than a similar set of devices from several different vendors.
Of course, technology has changed since 2001 and wireless connectivity between devices obviates the need to have a central hub with hardwired connections to peripherals. If there is a central hub today, it's iCloud. But Apple's electronic wristband can be expected to serve as a communications control point, routing messages, alerts, and notifications to and from edge devices and iCloud.
Apple is expected to introduce a wearable device this fall.
In its ninth year, Interop New York (Sept. 29 to Oct. 3) is the premier event for the Northeast IT market. Strongly represented vertical industries include financial services, government, and education. Join more than 5,000 attendees to learn about IT leadership, cloud, collaboration, infrastructure, mobility, risk management and security, and SDN, as well as explore 125 exhibitors' offerings. Register with Discount Code MPIWK to save $200 off Total Access & Conference Passes.