Following the revelation that a limited number of Apple USB-C charge cables that were included with MacBook computers are faulty, the company has announced a replacement program for affected users.
Apple said it would provide a new, redesigned USB-C charge cables -- free of charge -- to all eligible customers. This program also covers Apple USB-C charge cables that were sold as a standalone accessory.
Due to a design issue, MacBooks may not charge or only charge intermittently when they are connected to a power adapter with an affected cable.
The affected cables have "Designed by Apple in California. Assembled in China" stamped on them, while the new, redesigned cables include a serial number after that text.
The Web page addressing the issue includes three options for the replacement process, including help finding an Apple Authorized Service Provider, contacting Apple Support, or finding an Apple retail store, in which case the company also recommends making a Genius Bar reservation.
Apple also noted that if customers believe that they have paid for a replacement due to this issue, they should contact Apple regarding a refund. The company also explained that the replacement program does not extend the standard warranty coverage of the MacBook.
The company will also require the computer's serial number, which can be found under the "About This Mac" tab on the upper left hand corner of the screen.
For MacBook owners who provided a valid mailing address during the product registration process or Apple Online Store purchase, Apple will send them a new cable by the end of the month. The program covers the affected USB-C charge cables until June 8, 2018.
The recall is the second for the company in as many months.
In January, Apple determined that in "very rare" cases, the two-prong Apple AC wall plug adapters designed for use in continental Europe, Australia, New Zealand, South Korea, Argentina, and Brazil may break and create a risk of electrical shock if touched.
[iPhone 7 Vs. Galaxy S7: Which smartphone has the best rumors?]
Those wall plug adapters were shipped from 2003 to 2015 with Mac and certain iOS devices, and were also included in the Apple World Travel Adapter Kit.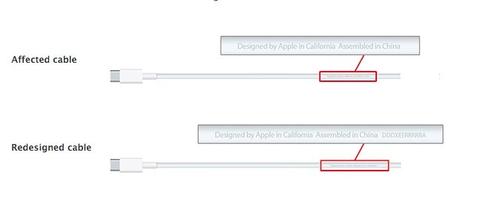 However, neither of these recalls matches the headache Apple's been having lately with a bug in its best-selling device, the iPhone.
The Error 53 controversy, as it is being called, bubbled to the surface last week when some people found Apple intentionally bricked their smartphones for security purposes.
This problem rears its head when a user relies on a third-party repair shop to fix the iPhone or iPad and that shop replaces the Touch ID sensor button. When the next iOS update rolls around, that's when the Error 53 screen will likely appear.
Apple is being taken to task for bricking the iPhones of consumers who sought out cheaper repairs, with attorneys asking users to join a class action lawsuit against the company.
Lawyers at Seattle law firm Pfau Cochran Vertetis Amala (PCVA) argues no materials they've seen from Apple ever show a disclosure that the phone would self-destruct if a user downloads new software onto a phone.
Are you an IT Hero? Do you know someone who is? Submit your entry now for InformationWeek's IT Hero Award. Full details and a submission form can be found here.