Apple revealed details about Apple Watch, among other new and upgraded products, in typical fashion, with a live event in San Francisco marked by a phalanx of satellite media trucks, hordes of journalists, and an array of industry partners on Monday.
Speaking at San Francisco's Yerba Buena Center, Apple CEO Tim Cook said that the Apple Watch will be available for preorder and in-store previews on April 10 in Australia, Canada, China, France, Germany, Hong Kong, Japan, the UK, and the US. The Apple Watch is scheduled to ship on April 24.
The company also announced an Apple TV price reduction and the addition of HBO service, an open source medical research API for iOS called ResearchKit, and a reengineered MacBook that Apple claims is the most energy-efficient notebook in the world.
The Apple Watch comes in two sizes, 38mm and 42mm, and in three distinct collections, priced as follows:
Apple Watch Sport ($349 to $399)
Apple Watch ($549 to $1,099)
Apple Watch Edition ($10,000 and up), an 18-karat gold version that will only be offered at select retailers
"In addition to being a beautiful object, the Apple Watch is the most advanced timepiece ever created," said Cook. The Apple Watch is accurate within 50 milliseconds of UTC (Universal Coordinated Time), Cook said.
Cook emphasized the utility of Apple Watch as a communication tool, noting that it can receive calls, present email messages, and even send sketches or heartbeat vibrations to friends with Apple Watches. "This is an incredible, intimate way to tell someone you're thinking about them," said Cook.
[ Thinking of queuing up to buy an Apple Watch next month? Read Apple Watch 2.0: Why You Should Wait. ]
Cook also highlighted Apple Watch as a means to conduct Apple Pay transactions, and said that the Apple Watch battery will last through 18 hours of typical use, considerably more than reports have predicted. However, Apple cautions that battery life depends on a variety of factors, and that actual results may vary.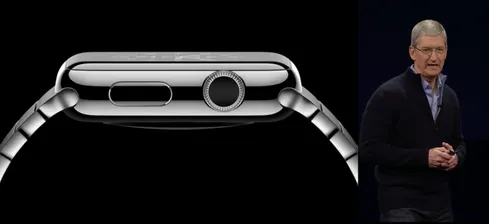 Gartner last fall predicted that worldwide smartwatch shipments will reach 40 million by the end of 2015, up from 10 million in 2014. Apple appears likely to capture a substantial portion of that market. Forrester analyst James McQuivey in an email estimated that Apple will sell at least 10 million of its smartwatches by the end of the year.
During the presentation, Apple executives focused on the strength of the company's industrial and materials design, evident in the special aluminum alloy used for the Apple Watch and in the refined design of the new MacBook.
In a video, Apple SVP of design Jonathan Ive described the new MacBook as "a product that couldn't exist without invention across many disciplines." Evidence of Apple's innovation can be seen in the notebook's improved keyboard mechanisms, trackpad sensing, display efficiency, and battery layering. The new trackpad, called Force Touch, adds support for pressure sensing, which can be used to control applications that assess pressure input.
The new MacBook will be available on April 10. Sporting a single all-purpose USB-C port, it includes a 1.1 GHz dual-core Intel Core M processor (Turbo Boost speeds up to 2.4 GHz), 8GB of memory, 256GB of flash storage and Intel HD Graphics 5300, starting at $1,299 (US). It's also available with a 1.2 GHz processor and 512GB of flash storage, starting at $1,599 (US).
Apple also updated its 13-inch MacBook Pro with Retina display and MacBook Air notebooks. The MacBook Pro now features the Force Touch trackpad that debuted in the new MacBook, along with Intel Core processors up to 3.1 GHz (Turbo Boost Speeds up to 3.4 GHz), integrated Intel Iris Graphics 6100, and faster flash storage, with throughput up to 1.6GBps.
The updated 11-inch and 13-inch MacBook Air models now include Intel Core processors up to 2.2 GHz (Turbo Boost speeds up to 3.2 GHz), integrated Intel HD Graphics 6000, and Thunderbolt 2, which supports data transfer rates up to 20Gbps.
Perhaps feeling pressure from Google Chromecast and Amazon FireTV, Apple lowered the price of Apple TV to $69 and introduced HBO Now, a way to stream HBO content to Apple TV and other Apple devices without a cable or satellite service subscription. HBO Now, available in April, costs $15 per month and, until HBO makes deals with other partners, is available exclusively on Apple devices.
Apple ResearchKit Targets Healthcare Data Gathering
Joining recent iOS APIs like CarPlay, HomeKit, and HealthKit, Apple's ResearchKit provides a way to build apps that allow users to participate in medical research by donating data. ResearchKit, explained Jeff Williams, senior vice president of operations at Apple, aims to help researchers overcome the challenges that accompany traditional methods of data collection, such as limited participation, the need to pay some study participants, small sample sizes, subjective medical evaluations, the low frequency of data collection, and the one-way nature of healthcare studies.
"There are hundreds of millions of iPhone users out there, many of whom would gladly contribute if they could do so," said Williams.
Apple has been working with select healthcare organizations to develop ResearchKit apps. Williams discussed an app developed to gather data from people with Parkinson's disease. The app administers interactive tests on the user's smartphone that measure hand and voice tremors, among other data, that can help inform medical diagnoses.
Acknowledging that health-related data is particularly sensitive, Williams emphasized the voluntary nature of ResearchKit apps and Apple's commitment to privacy. "Apple will not see your data," he said.
Attend Interop Las Vegas, the leading independent technology conference and expo series designed to inspire, inform, and connect the world's IT community. In 2015, look for all new programs, networking opportunities, and classes that will help you set your organization's IT action plan. It happens April 27 to May 1. Register with Discount Code MPOIWK for $200 off Total Access & Conference Passes.