Cloud computing -- in addition to being about rented servers, big data analysis, and accomplishing IT tasks off-site -- is rapidly becoming about connecting devices to other devices and combining their intelligence.
This Internet of Things (IoT) is moving rapidly to become the network of household, sensory, and mobile devices talking to each other, plugged into applications that can use their data. In this sense, the IoT is another phase of mobile computing, but this time with many devices attached to the network that combine capabilities.
That was just one of the intriguing prospects to emerge from the sessions and speakers in the Cloud Connect track at Interop this week in Las Vegas.
"This will be the year that mobile Internet usage surpasses use of the Internet via PCs," said Tana Jackson, VP of engineering at Soasta, which automates testing of mobile and Web applications in the cloud, in a presentation Thursday. "This greatly changes how business will be done."
[Want to learn more about the Internet of Things? See The Surprising Ingredients of IoT Success.]
Just as companies that were slow to move to the Web were disrupted and displaced by companies that presented their goods and services effectively via HTML, the next round will reward companies that understand that customers will be finding and viewing them from a small-screen mobile device -- and will be declining to do business with them if their mobile interfaces are poorly designed or frustratingly slow.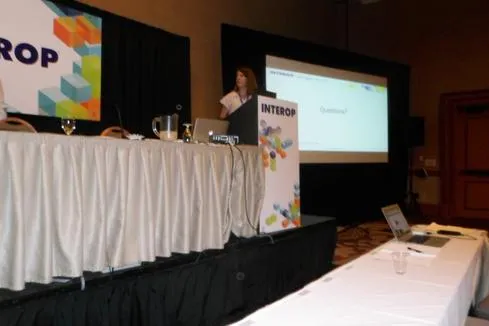 Jackson said a three-second rule applies to mobile applications, despite their sometimes slower wireless connections, as it once did to interactions with websites via PCs. If an application can't respond to a user in three seconds, that prospect is likely to go elsewhere and try a competitor's services.
Her advice: Avoid Flash and use HTML5 instead, because it doesn't contain faulty redirects or serve 404 server error pages.
Mobile-application builders must employ user-responsive design, which displays well on a wide variety of mobile devices.
Google search rankings, previously related to quality of content, now include a "mobile friendly" tag to indicate a site presents content and app interactions well for mobile device users, Jackson warned.
Mobile devices are no longer about text messaging and Facebook posts, she noted. A business's potential customers are reading reviews, comparing product features, and checking prices on their tablets and smartphones. Potential business partners are researching what's known about a business they are considering collaborating with. A poor mobile presentation will convince them to go elsewhere, she warned.
Other speakers at Cloud Connect echoed Jackson's comments. K. Scott Morrison, former CTO of API management firm Layer 7, became a senior VP and distinguished engineer at CA Technologies, after it acquired Layer 7.
The nature of a company's business will be reformed around its ability to produce APIs that grant the outside world access to its goods and services, he told a Cloud Connect audience April 28.
APIs allow a computer outside the company to talk to one inside the company and access applications that provide services. A well-constructed API acts as a two-way contract between the company and its API user. The API restricts and controls what the outsider may access. In exchange for granting access to internal data or services, the API can be viewed as building a customer relationship, providing ease of access, and monetizing the relationship in exchange for the access granted. Google Maps is a free service to many applications, but a mobile application owner whose software frequently uses the API may find himself subject to charges.
"APIs are not just another technology. They allow us to create new applications, new revenue streams for the business. You can rewrite them (for third-party access) and transform where your business is going," Morrison said.
Soon mobile devices, via the Internet of Things, will be able to access a rich set of online resources that help them analyze information gathered and take actions on its owner's behalf, with very little human intervention. For example, a smartphone will check the electric meter to see the amount of power a household has consumed for the month and decide whether to start a washing machine load or wait until cheaper power is available. Next, it will check an outdoor temperature sensor to predict whether solar panels on the roof will have a productive or a cloudy day. It can also decide whether any power produced should be consumed immediately, or plugged into the grid for a small reduction in the monthly power bill.