Located on 4th Street between Avenue C and D in Manhattan,
Roberto Clemente School
has an impressive computer lab with 28 Apple iMacs and a Smart Board.
John Holleran has been running the lab for the past two years. He took it over after convincing the school's principal, who was facing a choice between a technology teacher and an art teacher, that he could teach both.
"Initially, the principal wanted to do traditional art with pre-K and computer art with the older grades," Holleran, whose title is technology teacher, told me in an interview. But, indicative of the pervasiveness of computers in the culture, even the pre-K and kindergarten students were comfortable using the Macs.
In first and second grades, Holleran uses the Mac layout program, Pages, for teaching basic computer activities. "We talk about opening documents and templates, and I transition them to other programs," he explained.
[ How can we improve math learning apps? Read Problem Of Math Educational Software Needs Solution. ]
Unfortunately, while the lab was filled with top-notch hardware donated by a city councilwoman, the school didn't have money for software. Holleran's solution to the software gap was to use iWork and Pages, which both came pre-installed on the iMacs, and supplement these with two free software programs: Tux Paint for drawing and Stykz for animations. (Holleran also got around the lack of a color printer by displaying the student's artwork on the Smart Board and on the large LCD in the school's lobby.)
Rather than use Stykz simply as an art tool, Holleran coordinates around assignments with other teachers in the school. For instance, he had students animate their math problems, such as "one alligator eating one-third of six pigs."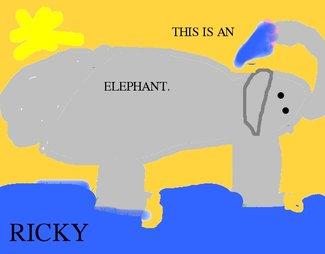 Computer artwork from a Roberto Clemente kindergarten student.
The students also use Edmodo, the social networking site geared for schools, which lets teachers control who has access and what is posted. "I do a few lessons on Internet etiquette," Holleran told me.
Transient Students
"We have a huge transient population; about 40% are in temporary housing," Holleran notes, adding that fully a quarter of the students may be gone and replaced by the end of the academic year. Roberto Clemente has the expected problems of a school with high-needs students: Nutritional and behavioral problems are widespread.
Interestingly, despite large numbers of children who likely don't have home computers, Holleran is consistently amazed by how comfortable students are using computers. "They pick up these programs fast, and find all the bells and whistles on their own."
For instance, the fifth graders start using Apple Keynote, a presentation program, to build slideshows and practice public speaking. "They find the transitions, the builds, the flashing lights, the photo drops."
Having students create content and teach each other about application gimmicks is a great way to keep them focused and interested, he told me, adding this is doubly important for these students, who often deal with chaotic, stressful home lives.
"With technology evolving so quickly, I don't want to waste instructional time teaching the ins and outs of a program or tool that may become obsolete before [students] hit middle school," Holleran wrote in a follow-up email. "The kids benefit from focusing on creating valuable content and using technology as a means to share it."
In fact, based on its success with students, Holleran reports the school is thinking about using the computer lab to engage Roberto Clemente's parents, which he said is a persistent struggle. "We're now discussing ways of giving parents access to the computers. They could write a resumé or a letter or just check email."
This column was originally published on UBM's Educational IT site.