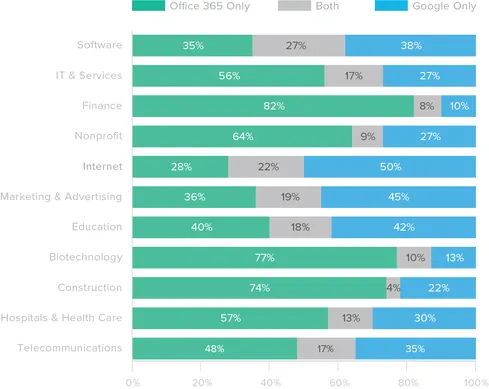 Google Apps Vs. Office 365: Which Suite Reigns Supreme?
(Click image for larger view and slideshow.)
Male rats exposed to radio-frequency radiation (RFR) emitted by mobile phones show low incidences of cancer in their hearts and brains, according to a peer-reviewed, multi-year study conducted by the US National Toxicology Program. The rats in the study were exposed to RFR during gestation and throughout their lives.
Female rats, subjected to the same conditions, did not show a statistically significant effect.
The findings are likely to revive debate about whether mobile phones raise the risk of cancer in humans.
The NTP study subjected more than 2,500 mice and rats to 900 MHz GSM- or CDMA-modulated RFR over the course their lives for almost two years. Exposure occurred in 10-minute-on, 10-minute-off cycles for 18 hours every day.
The study found a 2.2% to 3.3% increase in brain cancer (malignant gliomas) in four of six groups of 90 rats, compared to a 90-rat control group. This isn't a huge increase because, while no brain cancer showed up in the control group, other NTP studies have found a 2.0% rate of malignant glioma in rat control groups.
The study also found a 1.1% to 6.6% increase in heart tumors (Schwannomas) among six rat groups of 90, compared to a 90-rat control group, a more meaningful statistical deviation.
"These findings appear to support the International Agency for Research on Cancer (IARC) conclusions regarding the possible carcinogenic potential of RFR," the study says.
In 2011, IARC, part of the World Health Organization, convened a group of experts to review scientific research on the effect of cell phones on human health. The IARC Working Group concluded that mobile phones were "possibly carcinogenic to humans," while also stating the evidence linking brain cancer to mobile phone use was "limited," and the evidence linking other types of cancers to mobile phone use was "inadequate."
The Working Group defined "limited" by noting that, while the evidence suggested a causal link between certain types of brain cancer and cell phone use, "chance, bias or confounding could not be ruled out with reasonable confidence."
The NTP study noted that the results are limited to the health effects of RFR on heart and brain tissue. The NTP expects to publish further findings on RFR later this year and next, some of research covering the mice studied.
Mice and rats are widely used as models to study human health issues, but they may respond differently to drugs and medical tests. Evidence of RFR's effects on rats is suggestive but not conclusive.
Ionizing radiation, emitted by medical x-ray machines and by elements such as radon in the natural environment, is known to raise the risk of cancer in high doses. People are exposed to low doses of ionizing radiation daily.
RFR is non-ionizing electromagnetic radiation, meaning it lacks sufficient energy to remove electrons from atoms. A 2015 European Commission study found little evidence of harmful effects from RFR exposure. In 2014, researchers from the Manchester Institute of Biotechnology concluded that the weak magnetic fields from mobile phones and power lines do not harm human health.
Given the limitations of the studies to date, more research is certain to follow. But if a causal link between RFR and negative health effects is ever adequately established among scientists, is there a road back from where we are now?