To sell Facebook's vision for virtual reality, Oculus chief scientist Michael Abrash demonstrated that we're already living in a more benign version of The Matrix.
The Matrix, for those unfamiliar with the 1999 film, depicts a dystopian world where reality is not the way the protagonist, Neo, first sees it.
By presenting a series of optical illusions to an audience of developers at Facebook's F8 conference in San Francisco on Thursday, Abrash showed how human perception of the real world is the product of inferences made by our brains, rather than the reflection of objective input.
"'Real is simply electrical signals interpreted by your brain,'" he explained, quoting the words of Morpheus in The Matrix. Reality is what our brains reconstruct it to be, he said, based on our cognitive model of the world and sparse input from our senses.
"Virtual reality, done right, truly is reality as far as the observer is concerned," said Abrash, who also noted, "The Matrix gave me a deep sense of what VR could one day be like."
Facebook bought Oculus VR for $2 billion last year because people at the company believe the technology represents the future of interaction, or at least the future of entertainment.
That's the explanation offered by Mike Schroepfer, CTO of Facebook, who preceded Abrash during the second-day F8 keynote. The real power of marrying this technology with a sense of presence and the most used social connection platform is our ability to bring everyone together, he said.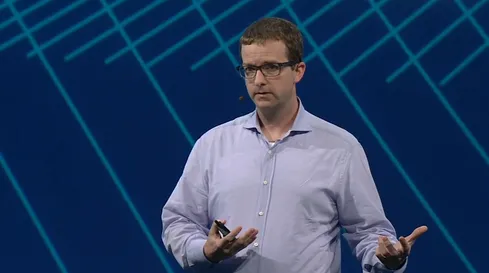 As far as ambitions go, Facebook's is exhilarating and just a bit terrifying -- The Matrix, you may recall, is based on Facebook's favorite conceit, a world where everyone is connected. While Google is mucking about trying to organize the world's information and make it universally accessible, Facebook aims to organize the world's people and make them virtually addressable.
Turning VR into a mainstream technology will take further work. There are still concerns that it may make people motion-sick. The hardware can be improved through further miniaturization and the development of ways to handle virtual movement without real-world collisions. But Abrash said that, with at least four major companies advancing the state of the art, he is optimistic.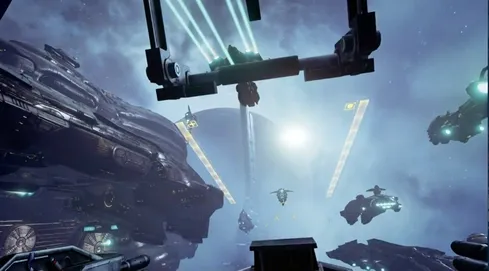 Facebook is thinking beyond making VR into a mass-market medium for entertainment and interaction. It's also pushing to extend Internet access to the estimated 1.1 billion to 2.8 billion unconnected people in the world by promoting open source software, hardware, and data center designs to facilitate global-scale computing, and advancing the state of artificial intelligence through a question-answering technology called Memory Networks.
[Read about VR and other cool gadgets from MWC.]
Why artificial intelligence?
Schroepfer explained that the effort to connect everyone has created a new problem: Too much competition for people's attention. Artificial intelligence will provide a way to filter the noise, "to understand the context of the world and what you want," as Schroepfer put it. It may also aim ads more effectively, whether you want that or not.
"The shift to virtual reality is going to bring huge changes for us as developers and society as a whole," said Abrash, adding, "Virtual reality has the potential to change almost everything about the way we live."
It won't, however, ameliorate the difficulty of designing and delivering a functional, affordable, and comfortable VR headset that appeals to consumers and content makers. Virtual reality will be real when it ships.
Attend Interop Las Vegas, the leading independent technology conference and expo series designed to inspire, inform, and connect the world's IT community. In 2015, look for all new programs, networking opportunities, and classes that will help you set your organization's IT action plan. It happens April 27 to May 1. Register with Discount Code MPOIWK for $200 off Total Access & Conference Passes.