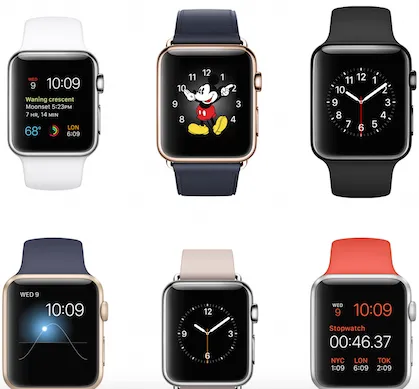 10 Hot Smartwatches, Fitness Trackers For Your Holiday Gift List
(Click image for larger view and slideshow.)
Worldwide shipments of wearable devices in the third quarter of this year totaled 21 million units, a 197.6% increase from the 7.1 million units shipped during the third quarter of 2014, according to IDC numbers released Dec. 3.
Fitbit, with its fitness devices, and Apple, thanks to the Apple Watch, are dominating the market, while Samsung, which has failed to produce a compelling product so far, slipped in the ranks, IDC analysts found.
Still, there are some surprises. For instance, a quarter after Apple debuted as the No. 2 wearables vendor worldwide, China's Xiaomi finished the third quarter of 2015 as a strong contender for the second slot.
Overall, Fitbit maintained its market lead with 22% share of the wearables market, IDC found.
Apple posted a slight increase from the previous quarter, mostly the result of additional markets and channels coming on line for the Apple Watch, as well as the release of watchOS 2, which brought native, third-party applications to the smartwatch.
Apple represented 18.6% of the market with 3.7 million Apple Watches shipped, while GPS maker Garmin landed in fourth place with 4.1% market share and just under 1 million devices shipped.
The report noted Garmin's focus on citizen athletes with wearables for running, golf, swimming, hiking, and aquatics, which kept the company well entrenched as the clear No. 4 vendor worldwide.
Boasting a broad product portfolio with multiple price points, Garmin is well-positioned to cover numerous market segments and address the rising fitness tracker category with its Vivo sub-brand of bands and watches, the IDC report noted.
In the category of "Other" wearable device manufacturers, a whopping 7.3 million devices were shipped, representing the majority -- 34.6% -- of the worldwide wearables market.
"It's still anyone's game at this point," Ramon Llamas, research manager for wearables and mobile phones at IDC, told InformationWeek. "The fact that two Chinese vendors can play catch-up rather quickly is perhaps indicative of other companies doing the same. Until that happens, expect the popular brands to have a spot -- Fitbit and Apple most ostensibly."
Chinese vendor XTC, a subsidiary of BBK, beat Samsung for the No. 5 position by 100,000 units in its worldwide debut.
"Samsung's newest device, the Gear S2, got a late start during the quarter. I'm expecting better volumes in the fourth quarter of 2015," Llamas said. "In the meantime, they are finding an audience, but Samsung is courting that audience with older devices, and that makes it challenging."
Llamas also explained another why Samsung is struggling to find an audience in the wearables market is limited compatibility with primarily Samsung smartphones. However, he noted the Gear S2 bucks that trend with Tizen as a different operating system, and the fact that the number of applications is still limited.
[Read how smartwatches and wearables are expanding beyond fitness and healthcare.]
When it comes to wearables reaching a broader audience with more advanced features and capabilities, Llamas said he isn't sure what OEMs will have to offer in order to entice buyers.
"Consumers don't know what they don't know, so even if someone were to come up with something incredible -- and I'd like to say that I've seen a few -- consumers may not understand the value until the feature is put in front of them," Llamas said. "Give it time. There's no killer app now, and I suspect that may continue for a while longer."
**New deadline of Dec. 18, 2015** Be a part of the prestigious InformationWeek Elite 100! Time is running out to submit your company's application by Dec. 18, 2015. Go to our 2016 registration page: InformationWeek's Elite 100 list for 2016.