Google's timid entry into the retail business advanced another step on Wednesday with the opening of the first Google-branded shop.
It's not quite a free-standing, logo-bearing structure along the lines of an Apple Store; rather, it's a "shop in shop," called "the Google shop," that sits within the confines of Currys PC World, located on Tottenham Court Road in London.
Nonetheless, customers can experiment with Google's Android, Chromebook, and Chromecast devices, and can actually purchase in-stock items with the help of a Google specialist.
"This is the first Google shop experience Google has opened anywhere in the world," Google said in a statement.
The company has, however, operated temporary outlets before the London experiment. In 2013, it opened pop-up product showrooms called Winter Wonderlabs in six US cities, where visitors could order Google products but could not actually obtain merchandise.
[Read about Android security concerns.]
That same year, Google tried to open a showroom built atop a barge on San Francisco's waterfront, but failed to find a way to operate its floating technology gallery within California law.
Apple has made the appeal of retail stores apparent to its competitors.
At its media event on March 9, Apple CEO Tim Cook said that 120 million people visited Apple Stores in the fourth quarter of 2014. Apple has over 450 stores. While it earns only about 12% of its annual revenue from its retail locations, it derives benefits beyond sales: marketing, customer relations, and customer support.
Google undoubtedly wants to sell products -- it just revised its online Google Store to promote its newly updated Chromebook Pixel ($999-$1,299) -- but the company also recognizes that a retail presence can provide value through interactions as well as through transactions.
"With the Google shop, we want to offer people a place where they can play, experiment and learn about all of what Google has to offer; from an incredible range of devices to a totally-connected, seamless online life," said James Elias, the UK marketing director for Google, in a March 11 statement.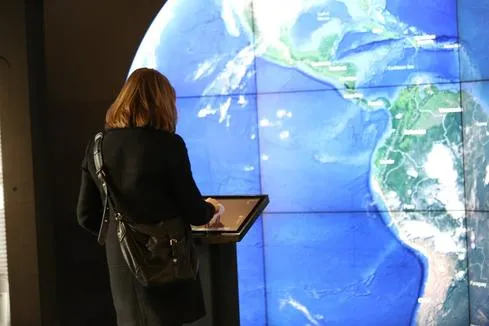 Toward that end, the Google shop offers an immersive surround screen installation, dubbed "Portal," that simulates flying around in Google Earth. There's also a Doodle Wall on which customers can digitally revise Google's logo and then share the results through social media, if they feel like advertising for Google. And there's a Chromecast Pod for viewing videos from Google Play, YouTube, and other sources.
Google is also planning to host classes and events in its Google shop that combine education with platform evangelism. The company says these may include "Virtual Space Camps," to teach basic programming skills to kids, and teacher training sessions focused on Google's free educational tools.
Attend Interop Las Vegas, the leading independent technology conference and expo series designed to inspire, inform, and connect the world's IT community. In 2015, look for all new programs, networking opportunities, and classes that will help you set your organization's IT action plan. It happens April 27 to May 1. Register with Discount Code MPOIWK for $200 off Total Access & Conference Passes.