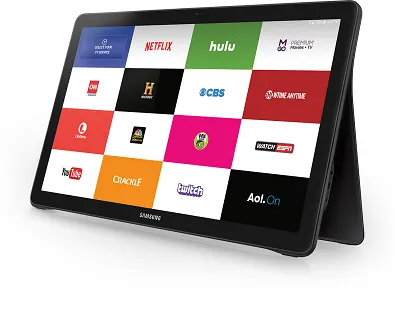 Samsung Galaxy View Review: A Big Tablet With Big Problems
(Click image for larger view and slideshow.)
Google just upgraded the appeal of its Project Fi wireless service in a big way: Google is now allowing people to add tablets to their account. Google isn't asking for upgrade fees or device access charges; instead, tablet owners need only pay for the data they consume each month.
Support for data-only devices is a welcome step for Project Fi.
With the expanded hardware compatibility users can access cellular connections while on the go through a tablet or other device. Existing Fi customers must request a data-only SIM card from Google through the Project Fi website. Once the card arrives, subscribers need only follow a few steps to activate the SIM card in their tablet.
The list of compatible tablets is rather limited, but at least it's a start. Project Fi will work with the Google Nexus 7 and Nexus 9, the Apple iPad Air 2 and iPad Mini 4, and the Samsung Galaxy Tab S. Not all variants of these devices are verified for Project Fi, however, and customers need to have specific models (for example iPad Air 2 Model A1567).
In general, these models are unlocked GSM devices that are compatible with T-Mobile's LTE network.
Project Fi, which got off the ground earlier this year, uses a mix of wireless technologies to ensure the best possible connection. In addition to WiFi, Project Fi relies on the wireless networks of Sprint and T-Mobile in the US. The service can dynamically jump from Sprint to T-Mobile, to WiFi, in search of the strongest network. The Nexus 6, Nexus 5X, and Nexus 6P handsets are all able to do this, but that will not be the case with tablets.
Tablets will be limited to surfing via WiFi and T-Mobile's LTE network.
[Check out InformationWeek's review of Google's Pixel C.]
Service fees for Project Fi are very reasonable. The company provides phones with unlimited calling and messaging for $20 per month. Each gigabyte of data costs $10, but Google breaks that down by the megabyte. For example, if you only use 500MB, you'll pay $5 instead of $10. The cheapest calling/data plan available to phones is thus $30 per month. Tablets don't have access to calling and messaging services, so the base charge is $10 per month per gigabyte.
Google doesn't require contracts with Project Fi; customers can cancel their service at any time. Tethering to tablets as hotspots is not supported. Customers can add up to nine data-only SIMs to their account, and can swap the SIMs between devices if so desired. Project Fi is still in invitation-only mode.
"As the number and variety of connected devices continues to grow, so should the number of wireless options," Project Fi senior product manager Laura Holmes wrote in a help forum post on Dec. 15. "We'll continue to experiment with creative ways to make accessing wireless from your connected device as easy as connecting with your phone."
**Elite 100 2016: DEADLINE EXTENDED TO JAN. 18, 2016** There's still time to be a part of the prestigious InformationWeek Elite 100! Submit your company's application by Jan. 18, 2016. You'll find instructions and a submission form here: InformationWeek's Elite 100 2016.