When Amazon CEO Jeff Bezos took to the airwaves last year to discuss Amazon's plan to deliver packages by drone, the company's plan looked more like public relations than a realistic roadmap.
Traditionally reserved Amazon appeared to be coming out of its shell to vie for mindshare as a technology leader alongside Google, a company that has gone to great lengths to present itself as an innovator and to shine a light on its moonshoot projects.
Now Google has revealed that it, too, has been testing drone-based delivery, and while its disclosure follows a similar script about a benevolent innovator -- the project's initial plan focused on delivering defibrillators to heart attack victims -- what's more noteworthy is the common villain for both companies: the Federal Aviation Administration.
[Is the Federal Aviation Administration too tough on drones? Read FAA Rules On Drones Vs. Model Aircraft Protested.]
As revealed in The Atlantic, Google's drone delivery program is called Project Wing. It has been running for two years out of Google X, the company's experimental technology group. Flight tests were conducted this month in Australia, because the country's regulations covering remotely piloted planes are more permissive than US rules.
"Australia has a long history of allowing civilian commercial use of UAVs so we were able to do many different tests and gather some great data about our technology, which was enormously helpful for this early-stage project," a Google spokesperson said in an email.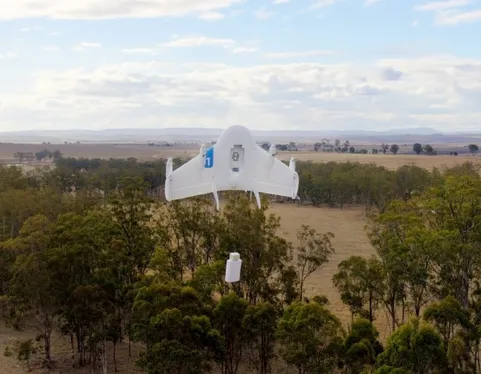 Google's explanation to the BBC put it more bluntly, describing Australia's regulations as "progressive." This suggests US rules are something other than that: backward, retrograde, or outmoded -- take your pick.
"Almost every other country in the world currently provides a more hospitable environment for UAS [unmanned aircraft systems] operations than the United States," wrote Mark Dombroff, who heads law firm McKenna Long & Aldridge's UAS practice in Washington, D.C., in a blog post earlier this week.
Dombroff adds that this isn't intended as criticism, as long as the FAA begins granting exemptions soon and publishes its rulemaking notice for small drones in the next few months. But it is criticism, nonetheless, just as Amazon's decision to begin testing drone deliveries in the Indian cities of Mumbai and Bangalore represents criticism of the FAA. Amazon and Google are voting with their feet, taking their tests to innovation-friendly countries.
The FAA is aware it has to revise its rules to reflect the fast-moving world of drones. In June, the agency approved the first commercial drone flight over land. But in moving slowly, the FAA is walking in step with the US public, which isn't nearly as keen to see drones buzzing about overhead as are Amazon, Google, and a host of drone-oriented startups. In April, a Pew Research study found that 63% of survey respondents think we'll be worse off if the FAA allows unmanned aerial vehicles to operate in commercial airspace.
This might explain why Amazon and Google have gone public with their aerial delivery plans: Talking about drones is necessary therapy for a nation that has spent the past 13 years focused on the threat posed by flying things rather than the opportunity.
Find out how NASA's Jet Propulsion Laboratory addressed governance, risk, and compliance for its critical public cloud services. Get the new Cloud Governance At NASA issue of InformationWeek Government Tech Digest today. (Free registration required.)