Microsoft may be in a smartphone slump, but HP Inc. is taking its chances on Windows 10 Mobile. Its high-end Elite x3 smartphone, unveiled Feb. 21 at Mobile World Congress (MWC) in Barcelona, runs the new mobile OS.
The hardware specs are impressive. HP built the 5.9-inch device with a 2560 x 1440 Gorilla Glass display, a Qualcomm Snapdragon 820 processor, a 4150 mAh battery, 4GB of RAM, and 64GB of internal storage, which can be expanded to 2TB via a microSD card.
HP wants the Elite x3, specifically designed for the enterprise, to be your only business device. It's intended to be the core of a "new mobile ecosystem" and serve as your phablet, laptop, and desktop.
[More on mobile: Smartphone prices are up, but so is customer happiness.]
"What if your mobile device was the only device you needed?" questioned Michael Park, HP's vice president and general manager for mobility, at a press demo preceding MWC.
The company's answer is a phone built to work across several business environments. Its Elite x3 can power a desktop, protect data with enterprise-level security, and deliver desktop apps through the cloud.
The Elite x3 relies on Continuum, a core feature of Windows 10, to power this multi-device scenario. Continuum enables users to plug their Windows 10 smartphones into larger screens to transform their phone into a full desktop with mouse and keyboard.
HP has also launched a few accessories to bring the Elite x3 to its full potential. One is the Desk Dock, which enables owners to connect a phone to an external monitor. Another, the Mobile Extender, is a portable display.
The Desk Dock is packed with ports for connectivity: DisplayPort for external display support, two USB-A ports, USB-C connection, and wired Ethernet. Users can click the phone into the stand, where they can continue using it.
The Mobile Extender resembles a small black laptop with 12.5-inch display and keyboard. It's basically a shell of a device that transforms into a laptop with the power of the x3, which can sit in its user's bag or pocket while the Extender is in use.
HP is also ensuring the Elite x3's security is sufficiently robust for its enterprise audience. In addition to iris and fingerprint scanners, the phone is built with Secure Boot at the chipset layer, bitlocker 128-bit encryption, VPN-SSL, Intune MDM, and Reset protection.
The company also acknowledged the smartphone is built so that IT departments only have to manage one device, which could be a more secure approach compared with the BYOD policies many businesses currently employ.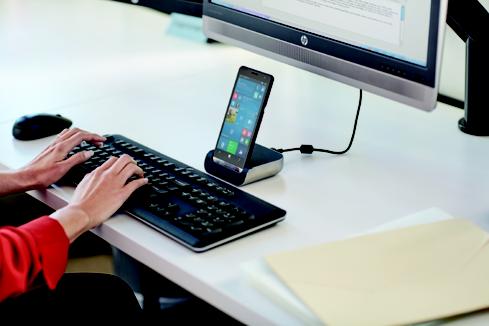 Through the Universal Windows platform, developers can write one app to scale across devices, saving IT managers the headache of creating several versions of the same app. HP is also promoting its app catalog, HP Workspace, to enable access to virtualized apps not normally available on mobile devices.
HP has not officially announced availability for the Elite x3, Desk Dock, or Mobile Extender, but has said the phone will be available this summer. Pricing is unknown, but given the premium hardware, it'll likely be on the pricey side.
It makes sense for HP to target the enterprise audience with its premium smartphone, especially with Windows Phone so unpopular among consumers. Could the Elite x3 be a business hit? With 76% of businesses actively piloting Windows 10, as Microsoft claims, there could be a possibility.
Are you an IT Hero? Do you know someone who is? Submit your entry now for InformationWeek's IT Hero Award. Full details and a submission form can be found here.