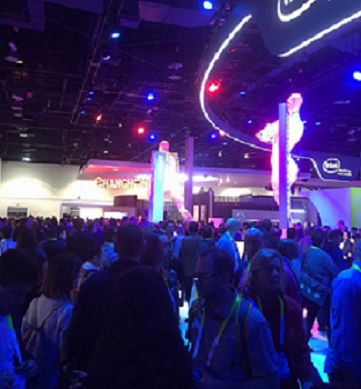 Huawei, Toshiba, ZTE Unleash Hot Smartphones, Tablets At CES 2016
(Click image for larger view and slideshow.)
Huawei introduced its P9 and the P9 Plus flagship smartphones during a show in London on April 6, as the company looks to reach further into the high-end phone market now dominated by Apple's iPhone and Samsung's Galaxy line.
The P9 is the first smartphone to be co-engineered by Leica Camera AG. The collaboration resulted in a standout feature: a dual-camera design. One camera is an RGB, dedicated to capturing color, and the other is a monochrome camera that excels at capturing details.
"The two rear cameras of the P9 work in tandem to enable users to create images of superior detail, depth and color," Huawei said in a statement. "The P9 truly excels in low-light conditions, as the dual-camera design guarantees more light and detail can be captured."
The camera has also been meticulously calibrated, according to Huawei, allowing for images that faithfully render color but also -- when the monochrome mode is selected -- make for black-and-white images of "superior quality."
The P9 has a 5.2-inch 1080p display, is powered by a Kirin 955 2.5 GHz, 64-bit ARM-based processor, and has a 3,000 mAh battery. The smartphone runs the Android 6.0 -- Marshmallow -- operating system.
The P9 Plus has a 5.5-inch Press Touch display and a 3,400 mAh battery -- plus dual-IC Rapid Charge technology, which in 10 minutes of charging time can provide six hours of talk time.
Huawei describes the exterior of the smartphones as a "perfect construct of superior-grade 2.5D glass and an aerospace-class aluminum, with diamond-cut edges rounded out by carefully balanced curvatures."

Are you prepared for a new world of enterprise mobility? Attend the Wireless & Mobility Track at Interop Las Vegas, May 2-6. Register now!
Also worthy of a spotlight are the phones' triple-antenna architecture, which provides "robust and seamless connectivity," per Huawei. Both phones also feature an "enhanced" biometric fingerprint sensor, though the company didn't offer details on exactly how the technology had been improved.
In case a top-notch camera isn't enough to help the Chinese company compete against Samsung and Apple in the US market, Huawei has begun emphasizing its design credentials and started aligning itself with some star power.
At the London event, it premiered a video featuring Scarlett Johansson and Superman actor Henry Cavill. She appeared in color, he in black-and-white. They are the company's new brand ambassadors.
In a second, two-minute video, it announced that it had built what it calls an Aesthetic Research Centre in Paris.
A fashion designer at the Centre explained, in French, that her role for Huawei is to "translate all these recent trends into concepts, colors and materials … with a focus on fashion."
The 64GB version of the P9 will come in finish called Haze Gold, which Huawei says sets a new standard in industrial design for its use of "techniques including brushed hairlines and metal polishing at micron-level precision to create a translucent metal surface."
It will also come in Ceramic White, which is Huawei says is smoother than the painted bodywork on a premium car, "reflecting and refracting light to present different shades of awe-inspiring colors as ambient conditions change."
The smartphones will debut in select markets (including the UK, but not the US -- on April 16.
The 3GB version of the P9, with 32GB of extended memory, will be priced at €600 ($683), and the 4GB version, with an added 64GB, will be €650 ($740). The P9 Plus, in 4GB with 64GB extended memory, will be €750 ($854).
Richard Yu, CEO of the Huawei Consumer Business Group, said that, with the P9, consumers can take photos with "unmatched clarity, richness and authenticity," with a "powerful smartphone that looks and feels incredible."