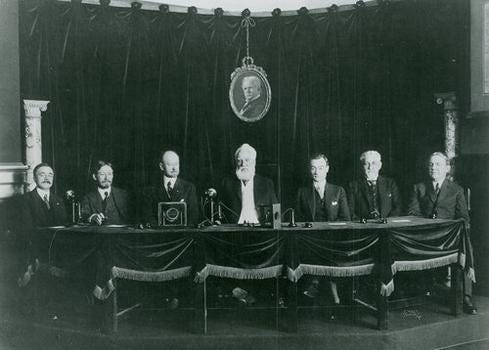 First Transcontinental Phone Call: A 100-Year Celebration
(Click image for larger view and slideshow.)
Apple sold more iPhones and Macs during the holiday period than it has ever before. iPads? Not so much. Though the company shipped an impressive number of slates, those shipments dropped by about 4.5 million units year-over-year. At the same time, average selling prices of the iPad dropped. The tablet market is still finding its footing, it appears, and that's impacting Apple's ability to push iPads.
Apple sold 21.42 million iPads during its first fiscal quarter of 2015, which ended Dec. 27, 2014. During the same period in 2013 and 2014, Apple sold 22.86 million and 26.04 million iPads, respectively. Shipments during the holiday quarter were down 18% and revenue dropped 22% year-over-year.
Apple released the iPad Air 2 and the iPad Mini 3 in October. Both tablets were minor updates to the 2013 models, which sold in big numbers. Apple launched them alongside the iPhone 6 and iPhone 6 Plus, its two largest-ever smartphones. Are people buying bigger iPhones instead of Apple's smaller tablets?
"There's probably some level of cannibalization that's going on, with the Mac on one side and the phone on the other," admitted Apple CEO Tim Cook during the company's call with press and analysts Tuesday. Upgrade cycles are a concern, too. Cook said people are buying new tablets "somewhere between" the two-year period between iPhones and the five-year period between Macs.
[Let the torture begin. BYOD Means Bring Your Own Dollars.]
Cook, however, insists that the iPad market has plenty of legs. "First-time buyer rates are very high. By very high, I mean that if you look at some of the developed markets, like the US, Japan, the UK, you would find that 50% of the people are buying an iPad for the first time. If you look in China it's over 70%. And so when you have that kind of first-time buyer rates, you don't have a saturated market."
Cook's stance gels somewhat with analyst firm IDC. "When we look at the global picture, it would be easy to say that the tablet market is slowing down," said Jean Philippe Bouchard, research director for tablets, in an IDC report. "But, when we start digging into the regional dynamics, we realize that there is still a good appetite for this product category. While mature markets like North America and Western Europe will combine for flat unit growth in 2014, the remaining regional markets will generate 12% unit growth over the same period."
Moreover, Cook says people really use their iPads. "Usage is six times our nearest competitor. Usage measured in Web browsing is like 71% of total tablets. Also the commerce taking place across the iPad is enormous. Essentially over 80% of the commerce on tablets is taking place on iPad."
What about those falling average selling prices? Well, when the iPad debuted in 2010 the ASP was close to $600. In its most recent quarter, Apple saw ASPs for the iPad erode to about $450. The biggest reason likely is the introduction of the iPad Mini, which sells for considerably less than the larger iPad Air. Further, Apple continues to sell older models at a discounted rate.
"The lowest price for iPhones has remained very stable for four years, while the highest possible price has risen $200 since 2010," said Jan Dawson of JackDaw Research. "But the iPad's lowest selling price has fallen from $500 to $250 during that same period, while the highest price has barely changed. Given the lack of subsidies on the iPad, lower full retail prices translate directly to what consumers actually pay, whereas higher prices on the iPhone side are masked by carrier subsidies and/or installment plans in many cases. All this helps to explain why the iPhone ASP keeps rising while the iPad ASP keeps falling."
Apple's iPad business isn't in any danger of going away. No other tablet maker can claim to have shipped more than 21 million devices during the holiday quarter. It may be a much smaller piece of Apple's pie than the iPhone, but the iPad is still a vital source of income for Apple. For example, Apple sold nearly four times as many iPads as it did Macs in the most recent quarter. It's safe to say the tablet market as a whole is still finding its footing. Apple's toehold in that market is far stronger than most.
Attend Interop Las Vegas, the leading independent technology conference and expo series designed to inspire, inform, and connect the world's IT community. In 2015, look for all new programs, networking opportunities, and classes that will help you set your organization's IT action plan. It happens April 27 to May 1. Register with Discount Code MPOIWK for $200 off Total Access & Conference Passes.