the new split-screen multitasking found in iOS 9, and its larger display allows for a full-size keyboard to appear on the screen.
The device is large and heavy. At 1.57 pounds it weighs more than the original iPad. Disappointingly, the battery provides just 10 hours of life. A device this large -- especially one intended for mobile pros -- should push 12 hours of uptime.
The guts of the tablet largely mirror those of the iPhone 6s Plus, which means it has an A9x processor, 32GB through 128GB of storage, and an 8-megapixel iSight camera.
An Apple Stylus?
In a surprise move, Apple announced two accessories for the iPad Pro: a folding Smart Keyboard and the Apple Pencil.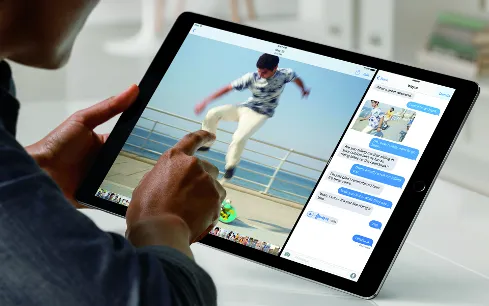 The Smart Keyboard looks like a cross between the existing cover for Apple's iPads and the keyboard for Microsoft's Surface tablets. In unfolds and magnetically attaches to the iPad Pro for data transfer and stability. The keyboard costs $169.
[Check out our previous coverage of Apple's iPad Pro.]
The Apple Pencil is a stylus (you know, the thing Apple founder Steve Jobs said was the mark of failure). The Pencil can work at various angles, and it interacts with the pressure-sensitive screen to deliver thin and thick lines depending on how hard the user presses. Apple called up Adobe and Microsoft (yes!) to demonstrate how powerful the Apple Pencil can be within productivity apps. The Apple Pencil, which is battery-powered and can be recharged via the iPad Pro's Lightning port, costs a whopping $99.
Speaking of price points, the iPad Pro is a beast. The entry-level model, which has WiFi and just 32GB of storage, costs $799. The WiFi with 128GB model costs $949, and the WiFi with cellular and 128GB of storage costs a depressing $1,079.
The iPad Pro goes on sale in November.
Apple showed off the new Apple TV, which supports apps as well. The revised set-top box has a touch-sensitive remote that can be used with it to play games. It features extensive Siri integration, which can be used to control much of the user interface. The Apple TV goes on sale in late October for $149 (32GB) or $199 (64GB).
Last, Apple showed off a few new Apple Watch variants. A new aluminum option is available, as is a rose gold color. Several new straps will go on sale shortly. Apple will also deliver WatchOS 2.0 -- which supports native apps -- to the Apple Watch beginning Sept. 16.