Super smartphone rivals Apple and Samsung each have a moniker-7 product pending. With rumors flowing freely, we decided to compile them and compare which smartphones has the best rumors circling around it: The iPhone 7 or the Galaxy S7?
While Samsung tends to take an everything-and-the-kitchen sink approach, it's the Apple rumors that may be more surprising, though the Samsung suspense will be settled sooner -- specifically at this month's Mobile World Congress in Barcelona.
Here's a snapshot of the rumor landscape as it stands, heading into the Valentine's Day and Presidents' Day weekend.
What and When
Samsung will introduce its next Galaxy device Feb. 21 at the Mobile World Congress Show in Barcelona. That we know for certain. It dropped a teaser video Feb. 11.
Per reports, Samsung will use the event to introduce two phones, a Galaxy S7 and a Galaxy S7 Edge, with curved glass. According to a Feb. 12 report from GSM Arena, the smartphones will be priced at €700 and €800, respectively. (How that gets sussed out in US dollars remains to be determined -- or rumored.)
Apple, in keeping with tradition, is expected to introduce an iPhone 7 in September and likely begin shipping shortly afterward.
While rival Samsung produced roughly half of the A9 processors in the iPhone 6s, and Taiwan Semiconductor Manufacturing Company (TSMC) the other half, it's been said that Apple is pushing Samsung out of the process and trusting the complete order to TSMC.
"TSMC's 10-nanometer process is one reason… another likely has to do with the company's more advanced device packaging techniques, which allow for better power performance and efficiency," MacRumors reported Feb. 10. The report added that TSMC says the chip will go into full production in June.
Apple's use of two chipmakers stirred a kerfuffle among tech followers, after the company admitted there was a 2% to 3% difference in battery performance between the chips.
The Samsung S7 and S7 Edge are expected to feature either a Samsung Exynos processor or a Qualcomm Snapdragon 820, depending on the region of purchase, according to the same GSM Arena report. The phones are also expected to feature dual-SIM support.
Screen Size and Resolution
The screen size of Samsung's next flagship is expected to remain constant, at 5.1-inches. But according to a December report from the Wall Street Journal, the screen will be "pressure sensitive" -- and the phone will feature a high-speed charging port.
Qualcomm has said that version 3.0 of its Quick Charge technology can charge a dead phone to 80% in 35 minutes, versus a more typical 90. It's a good guess what Samsung lovers can look forward to.
The iPhone 7, also expected to hold steady at 4.7- and 5.5-inches, could be in for a major resolution jump. A source told Digitimes in September that Apple will "most likely" switch to glass-on-glass displays, which opens up the possibility of a 4K or Ultra HD resolution.
Camera
All three smartphones are expected to lose their "camera bumps" -- the lenses protruding like tiny periscopes on their backs.
Samsung presented its new Britecell sensor technology at a recent investor conference and explained that it features a one-micron pixel size. "A 20-megapixel Britecell sensor will reduce module height by 17 percent," according to AndroidPit, and "ensure solid low-light performance, supported by Samsung's WDR Technology and Phase-Detection Auto-Focus (PDAF)."
As for the iPhone 7, MacRumors has pointed to, well -- rumors -- that Apple may use Sony's dual-lens technology, which has been used in phones including the HTC M8, which was roundly applauded for its camera.
Appearance
As the smartphone market matures, changes have become more incremental. It will feel like a leap, then, if the iPhone 7 ditches not only its camera bulge, but also its double rear antenna lines and its 3.5-mm headphone jack.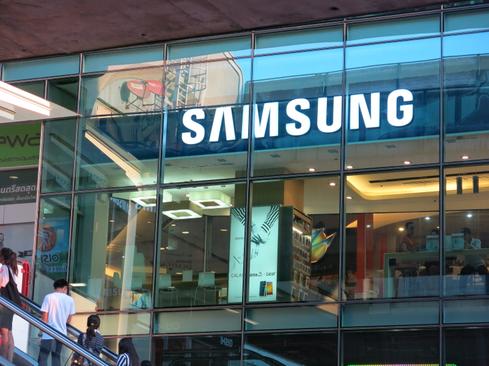 Gordon Kelly reported in Forbes Jan. 6 that two sources within Apple's supply chain have confirmed Apple will do away with the headphone jack and use a Lightning port instead. The change will allow for a thinner device and ideally transition more users to a high-resolution audio experience.
The Samsung S7 expected to look much like the S6, but with the addition of a memory card slot. The S7 Edge is "about to get edgier," according to Know Your Mobile, which has reported that it "will feature curved display edges along the top and bottom of the handset, as well as the side edges."
Other Goodies
Soon, iPhone users may be able to laugh in the face of leaky water bottles and knocked-over coffees. The newest iPhone may feature a new exterior material that makes it waterproof and dust-proof -- features Samsung got around to with the Galaxy S5.
Finally -- because who doesn't like a freebie? -- it's rumored that Samsung, which is making an investment in the VR market, will include a free Gear VR headset with each Galaxy S7 pre-order placed between Feb. 21 and March 10.
Gear VR currently retails for $99.99 and, according to Samsung, can "transform your Galaxy."
What have you done to advance the cause of Women in IT? Submit your entry now for InformationWeek's Women in IT Award. Full details and a submission form can be found here.