LG and Samsung just couldn't contain themselves: Both companies showed off new smart wearables just days before the IFA trade show starts in Berlin. LG's device uses Android Wear, while Samsung's relies on its homegrown Tizen platform. They will go head-to-head with Apple's wearable, which is expected to arrive shortly.
LG was first out of the gate with the G Watch R. The new smartwatch is LG's second stab at the Android Wear platform; the company released the G Watch in July. The G Watch R will go on sale in October. As its name implies, the R is round (the G Watch is square), and it features a 1.3-inch plastic OLED screen with 320 x 320 pixels. LG says the screen can be used both outdoors and in. LG further notes the R uses all the pixels of the screen, unlike the Moto 360 (also round), which has a black bar across the bottom.
LG put a bit more effort into the R's design. The chassis is made of stainless steel and the strap of calf skin. Despite the more refined look, it still garners an IP67 rating for protection against water and dust: The device can stand in a meter of water for up to 30 minutes with no fear of it going kaput. Powered by a 1.2-GHz Qualcomm Snapdragon 400 processor, the device includes 512 MB of RAM and 4 GB of storage for apps and files. It comes with a full array of sensors, including a 9-axis gyroscope, as well as an accelerometer, a compass, a barometer, and a heart rate monitor. The watch has a 410mAh battery, but LG didn't say how long it will last. Pricing wasn't discussed.
[What new features would you like to see in Apple's new iPhone? Read 8 Things We Want In iPhone 6.]
Samsung's smartwatch, the Gear S, is novel in that it can make and receive phone calls. It supports global 3G frequencies and can also send and receive text messages without requiring a smartphone. It also has Bluetooth and WiFi radios and can connect to a smartphone when needed for smart notifications. It includes Samsung's S Voice tool, which can be used to control the device via voice commands.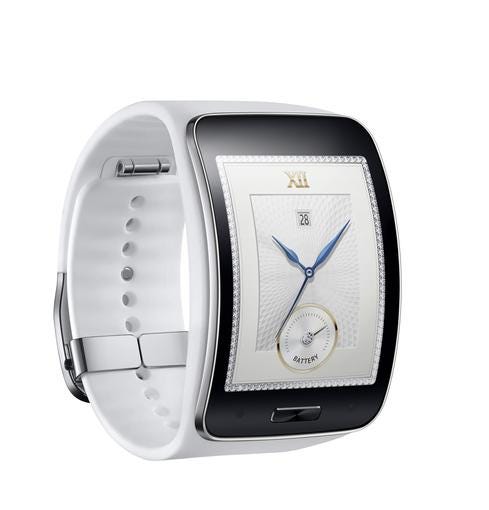 The Gear S features a large curved Super AMOLED display, which stretches 2 full inches across the diagonal and has 480 x 320 pixels for resolution that rivals some smartphones. It is powered by a dual-core 1.0-GHz processor and includes 512 MB of RAM and 4 GB of storage. Its battery is considerably smaller than the G Watch R's, at just 300mAh. Samsung says it is good for two days of use between charges.
Unlike the G Watch R, the Gear S relies on Samsung's Linux-based Tizen platform. Samsung claims to have more than 1,000 Tizen apps available to its smart devices. Google hasn't said how many Android Wear apps are available, but Tizen's future is cloudy at best. Developers may do well to hedge their bets with Android Wear over Tizen. The Samsung Gear S will also launch in October. Pricing will vary by market.
Both devices may arrive after Apple's smart wearable, which could be problematic for LG and Samsung. Re/Code reported late Wednesday that Apple will announce its wearable alongside the iPhone 6 on September 9. Re/Code's track record is pretty good as far as arrival dates are concerned. Many expect the iPhone 6 to reach stores as soon as September 19. It would behoove Apple to begin selling the iWatch (or whatever it is called) on the same day.
The market for wearables is clearly heating up. Neither the G Watch R nor the Gear S, however, do anything to shake up or disrupt the current thinking on wearables. Perhaps Apple's device will.
In its ninth year, Interop New York (Sept. 29 to Oct. 3) is the premier event for the Northeast IT market. Strongly represented vertical industries include financial services, government, and education. Join more than 5,000 attendees to learn about IT leadership, cloud, collaboration, infrastructure, mobility, risk management and security, and SDN, as well as explore 125 exhibitors' offerings. Register with Discount Code MPIWK to save $200 off Total Access & Conference Passes.