LG and Sony both had a few things to say about their wearables Tuesday. LG published a new website providing a peek at its coming device, which will run Google's Android Wear platform. At the same time, Sony introduced a significant system update for its SmartWatch 2, which it says has access to 400 applications -- a claim no other smartwatch can make at the moment.
LG offered up two important details about its future smartwatch: First, the screen will always be on; and second, it will be water and dust resistant. Always-on screens aren't something all smartwatches offer. The displays of Samsung's Gear line of wearables, for example, go dark after a few moments in order to conserve power. This requires the user to either shake his wrist or press a button to wake the display to read the time. Granted, these aren't taxing requirements, but most people would rather not futz with waking the screen of the watch before glancing at the time. The whole point of a wristwatch is to offer the quickest-possible access to the time. Qualcomm's own Toq smartwatch includes an always-on screen, but it uses Qualcomm's Mirasol display technology, which was developed specifically to be low-power.
[Are sci-fi horror movies terrifying would-be smartwatch buyers? See Wearables, Drones Scare Americans.]
LG's revelation of an always-on screen also suggests LG has done some work with respect to power management. Perhaps Android Wear itself, made by Google, is good at managing resources. However LG is making it possible, an always-on screen for a smartwatch is something to look forward to.
The LG smartwatch will come in at least two colors, black and a champagne/white combination. They will be resistant to water and dust, which would seem a basic requirement for devices that will be subject to sweat, rain, and other potential liquid hazards. LG's watch is expected to arrive this summer. You can find more info, including high-resolution photos, on LG's website. Google itself will provide more details about Android Wear at its I/O developer conference in June.
Sony isn't letting LG hog the smartwatch spotlight. In a blog post published today, the company announced a software update for its SmartWatch 2 wearable, which adds a number of features. For starters, the Sony SmartWatch 2 now allows users to customize both the clock face and wallpaper directly on the watch itself, rather than through the accompanying smartphone app. The update also adds a calculator, improves the Gmail and Facebook applications, tweaks the notification drawer's behavior, and improves vibrate notifications when the device connects/disconnects via Bluetooth.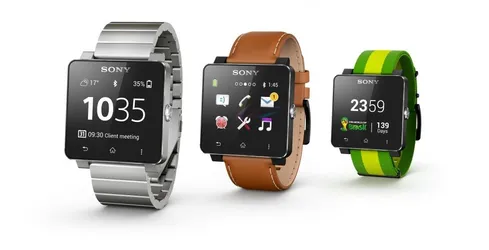 Beyond the system update, Sony announced two new colors for its smartwatch. The "Business" option replaces the plastic strap with a metal strap, and the "Brazil" option puts the 2014 FIFA World Cup host's colors on the strap. Last, Sony said its developer partners have been hard at work porting apps to its Android-based device. At last count, 400 apps are available to the SmartWatch 2. Pebble's smartwatch can claim about half that number, while Samsung's devices have access to fewer than 100 apps.
What do Uber, Bank of America, and Walgreens have to do with your mobile app strategy? Find out in the new Maximizing Mobility issue of InformationWeek Tech Digest.