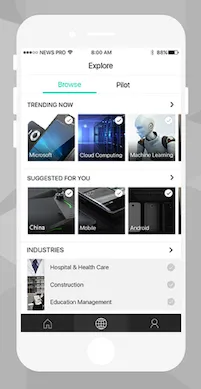 10 Cool Microsoft Garage Projects You Didn't Know About
(Click image for larger view and slideshow.)
A week before the madness of this year's Mobile World Congress in Barcelona, Microsoft has gotten off to an early start with the announcement of the Lumia 650, the company's latest smartphone running Windows 10.
The new Lumia device, which carries a retail price of just $200, will become available in select European markets beginning today, Feb. 15. It comes in matte black and matte white color options.
In its announcement, Microsoft did not indicate when the Lumia would be available in the US.
In addition to the price, the Lumia 650 features a highly polished, diamond-cut, anodized aluminum frame, a 5-inch OLED display, a profile only 6.9-mm thick, and a weight of only 122 grams.
The smartphone comes with a 5MP wide-angle, front-facing camera and Microsoft's imaging algorithms for improved photo and video capabilities, as well as an 8MP rear-facing camera, which includes options for rich capture and living images.
On the software side, Lumia 650 runs the latest Microsoft Office apps right out of the box, allowing user to create and edit documents on the go and sync them to the cloud through OneDrive.
The handset also comes packaged with Cortana, Microsoft's digital personal assistant, and a one-click setup for common everyday tools like Office 365.
With built-in support for Microsoft business applications, the Lumia 650 also allows IT to test the latest Windows 10 Mobile updates against critical line-of-business systems and apps, before the IT department distributes it to end-users through mobile device management (MDM).
"It's secure by design and keeps company and personal data safer with features like device encryption and device wipe," Samuli Hänninen, Microsoft's general manager of phones program management, wrote in a company blog post. "These features allow businesses peace of mind, knowing important information in emails and files are protected from threats and empowers employees to use one device for work and play."
At the end of 2015, the company introduced the first Lumia devices running Windows 10, including the Lumia 550, Lumia 950, and Lumia 950 XL, but Microsoft is still struggling to capture marketshare as upcoming brands like Huawei and low-cost smartphones from brands like Samsung dominate the market.
However, the company is making a major step to broaden its reach in the mobile market, when it announced last week that it is partnering with 74 device-makers to bring its apps and services, including Office, to Android tablets and smartphones.
As part of the deal, these partners are offering, or will soon offer, Android devices with Word, Excel, Outlook, PowerPoint, OneNote, OneDrive, and Skype pre-installed.
Microsoft's apps and services are already available on a number of Android devices, including the LG G Pad 2, the Sony Xperia Z4, and the Samsung Galaxy X6.
[Read more about Microsoft's Lumia strategy.]
Microsoft's shift in strategy and openness to partnerships is likely due to the fact that Windows Phone has proven a disaster, despite Microsoft's release of the new Lumia 950 and Lumia 950 XL in October 2015.
Redmond sold about 4.5 million Lumia devices during the fourth quarter of 2015, marking a 57% drop from 10.5 million one year prior. By comparison, Samsung shipped 85.6 million devices during the fourth quarter of 2015, according to figures released by IDC in January.
What have you done to advance the cause of Women in IT? Submit your entry now for InformationWeek's Women in IT Award. Full details and a submission form can be found here.