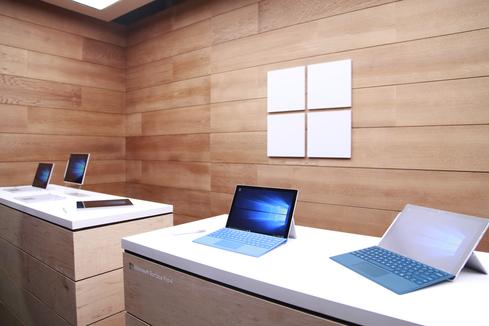 Surface Pro 4, Surface Book, Lumia 950: Microsoft's New Hardware Push
(Click image for larger view and slideshow.)
Microsoft has built its Surface portfolio on the idea its hybrid device can serve as a laptop replacement for mobile professionals.
Truthfully, Surface devices are stronger as tablets. While some people can successfully use them for productivity, Microsoft couldn't convince everyone the Surface is the laptop of the future – so it built Surface Book instead.
Surface Pro 4, the newest addition to the Surface lineup, is not designed to replace the laptop but to provide an upgrade for current Surface users. As Gartner analyst Michael Silver noted, those who didn't like Surface Pro 3 are unlikely to invest in Surface Pro 4.
The Surface Pro 4 is slightly thinner and lighter than Surface Pro 3. Its larger display is 12.3 inches with 5 million pixels and 267 PPI. Its size has not changed; Microsoft reduced the bezels to maintain the footprint of Surface Pro 3.
[Microsoft joins Intel and PC giants to revive struggling market.]

It also received the anticipated boost in power and storage. Surface Pro 4 is 30% more powerful than its predecessor and 50% more powerful than the MacBook Air, Microsoft claims. It has 16GB RAM and handles up to 1TB storage.
Businesses are taking notice of Surface Pro 4, which Microsoft reports is "the fastest Surface adopted in business." Thirteen customers have pre-purchased the new Surface, among them Berkshire Hathaway Automotive, BNY Mellon, AstraZeneca (UK), and USI Insurance Services.
With general availability for Surface Pro 4 starting Oct. 26 (the same day Microsoft opens its NYC flagship), device reviewers have begun sharing their experiences in using the upgraded hybrid. Here's what testers are saying so far:
It's still a tablet-first product.
"Microsoft has built its best tablet to date" in Surface Pro 4, TechCrunch reports, and it's still a tablet at the core.
As a tablet, it's fairly bulky. Microsoft's efforts to bridge the tablet-laptop divide have resulted in a mobile device that serves as a lightweight hybrid, but a heavy tablet. While lighter and thinner than the Surface Pro 3, the Pro 4 is not something you'll want to hold in one hand for a long period of time, writes The Verge.
Hardware improvements are minor.
On the Surface, the new device isn't very different from its predecessor, and has very minor differences in thinness, weight, and display size. It has the same magnesium gray casing and a similar kickstand that is more comfortable to use on a table than on a lap.
Performance improvement is notable.
Most of the selling points of Surface Pro 4 are under the hood. The 6th generation Intel Skylake processor boosts 3D performance by up to 81%, PCWorld reports. A Surface with the Core i5 processor, 8GB RAM and a 256GB SSD will run you $1,299. Maxing it out with the highest-end Core i7 edition will cost up to $1,599.
You won't notice much difference in using the Office suite on Surface Pro 4; however, any apps that make strong use of the CPU and integrated graphics (gaming, everyday Web browsing) will perform better.
Windows 10: Strong but still improving.
Surface Pro 4 was designed as a Windows 10 device; Surface Pro 3 was created for Windows 8.
Most reviewers cite the positive difference between the two operating systems and acknowledge room for improvement. The Verge cited issues with syncing Mail and Calendar apps with Google Apps, and issues with crashes in the Microsoft Store, but noted Windows 10 with bugs is preferable to Windows 8.1.
Surface Pen: Mostly positive reviews.
Microsoft made several updates to its Surface Pen, which accompanies the Surface Pro 4. Scribbling notes feels more natural with the improvements to the pen tip's traction, writes Gizmodo, and it's more like writing with a felt pen than on a plastic screen. This aligns with opinions of other commentators, who also noted the convenience of the pen's eraser.
PCWorld touched on the benefits of Microsoft's new PixelSense technology in Surface Pro 4, which rejects your hand while you use the pen. However, it also noted how some people may not like the way it writes on the screen, or how the right-click button has been removed.
The pen itself is largely a welcome improvement, but the magnetic strip for storing it along the side of the Surface is not as strong as needed. Reviewers note the pen usually falls off the Surface when the hybrid is carried in a bag.
Type Cover: A must-have accessory.
The upgraded Type Cover is essential if you want to make the most of Surface Pro 4. Its keys are smaller and more widely spaced (about 3mm apart). In contrast, the keys on the Surface Pro 3 cover were placed right next to one another, which made for a cramped typing experience.
Key pitch on Surface Pro 4 measures 19mm with 1.3mm of travel. While most reported that typing is comfortable and an improvement over the Surface Pro 3, it's not as sturdy as a traditional laptop keyboard.
The Surface Pro 4 trackpad is 40% larger than that of the Surface Pro 3, but still smaller than the trackpads on the Surface Book and Mac laptops. Its glass cover lends itself to faster and smoother scrolling. However, reviewers noted it felt cramped, and acknowledged a delay when you lift your fingers, and then put them back on the trackpad and scroll.
The keyboard is not included with the Surface Pro 4 and will cost an extra $130. If you're happy with the Surface Pro 3 keyboard, it can also be used with the Surface Pro 4.