reliably lay down ink strokes," but can also serve other functions. It notes that if the user pushes a button on the pen's barrel while tapping the screen, he can select and drag objects. It also indicated the pen can offer some functions when it physically touches a device's screen, and others when it hovers just above.
Microsoft published the video last week but subsequently removed it. A few weeks ago, the company similarly published and removed a Microsoft Research video that demonstrated new Live Tile concepts and prompted speculation about Windows 9. InformationWeek asked Microsoft why the videos disappeared, but the company has not yet responded.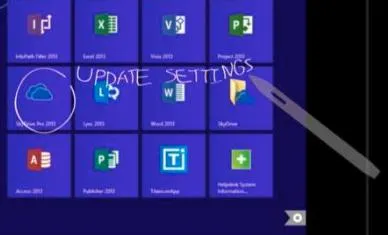 It's not clear if Microsoft will reveal its ink strategy at Tuesday's event. However, rumors have indicated for months that the Surface Mini will focus on digital note-taking and include a high-precision stylus. Whether it's digital ink or something else, the Surface line needs new features and capabilities to help it compete with iPads and Android tablets, a fact Microsoft conceded in its recent Form 10-Q filing with the SEC.
In the 10Q, Microsoft notes the success of integrated hardware and software firms -- an ostensible reference to Apple, though the filing does not say so. "We also offer some vertically-integrated hardware and software products and services; however, our competitors in smartphones and tablets have established significantly larger user bases," the document states. "Efforts to compete with the vertically integrated model will increase our cost of revenue and reduce our operating margins."
Indeed, the company reported last month that Surface margins had improved due to a sales mix that included more of the pricier Pro models, but the product line remains unprofitable overall, and has lost over a billion dollars since launching. Bing, of course, also lost billions of dollars before it became a core Microsoft asset, providing the brain for Windows Phone 8.1's anticipated Cortana, among many other products. Will the Surface line rebound as well? Microsoft noted in its 10Q that it hopes to attract more users by "developing new form factors that have increasingly natural ways to use them, including touch, gesture and voice." We'll know shortly how Tuesday's event will play into this plan.
What do Uber, Bank of America, and Walgreens have to do with your mobile app strategy? Find out in the new Maximizing Mobility issue of InformationWeek Tech Digest.