Microsoft is reportedly negotiating to open a retail location on Fifth Avenue in New York City, only a few minutes' walk from Apple's famous cube-shaped flagship store. The company routinely opens stores in close proximity to Apple's, but in the wake of CEO Satya Nadella's promise that devices such as the Surface will play a scaled-down supporting role in his company's strategy, the future of this retail plan has been a bit hazy.
Microsoft has declined to comment on the alleged plans, which were first reported by the New York Daily News. The company previously operated a Times Square store that opened when the original Surface debuted in 2012 but has since closed. The Fifth Avenue location would be Microsoft's only full store in Manhattan, though it has locations in surrounding areas, such as Long Island, and a kiosk in Manhattan's Columbus Circle.
[Is Microsoft on the right track with Windows 9? Read Microsoft's Windows 'Threshold' Takes Shape.]
If built, the store will reportedly be located on the ground floor at 677 Fifth Avenue near 53rd Street, site of luxury fashion brand Fendi's former store and about five blocks from Apple's location. Faith Hope Consolo, a prominent real estate broker, told the Daily News that street-level retail space on Fifth Avenue is the nation's most expensive, exceeding $3500 per square foot.
While exorbitant for most companies, Microsoft can of course afford such prices, even if the location were ultimately to underperform. Still, Nadella mentioned retail stores only once during the company's recent earnings call, and what he said didn't imply the imminent construction of a flashy Manhattan flagship. He called retail stores and hardware "supporting efforts" and emphasized that the company would operate these businesses with "disciplined financial execution."
Still, devices such as the Surface Pro 3 are aimed at professionals and affluent, trend-setting consumers. If Microsoft continues to produce such high-margin devices, Fifth Avenue is a natural spot to show them off. Moreover, Nadella has increasingly talked about devices that "light up" Microsoft's digital experiences. Microsoft's stores sell not only first-party devices, but also products from OEMs such as Dell -- in other words, the stores aren't just about Surface and Xbox, but also about the bigger Windows ecosystem. If Nadella truly believes future versions of Windows will redefine online experiences, a Fifth Avenue shop full of Surfaces and other high-end partner devices could be an ideal showroom.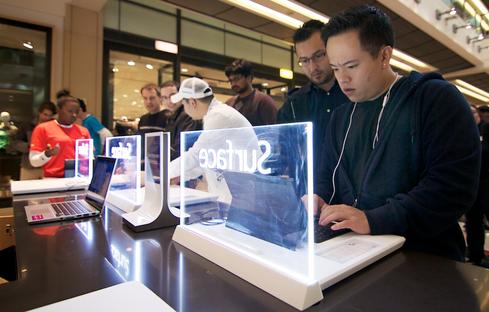 It's easy to see why Microsoft followed Apple into retail, and why, if the new report is true, the company might be expanding its reach. In its recent earnings report, Apple reported revenue of more than $4 billion from its stores. That said, Apple uncharacteristically failed to provide in-depth retail data, such as the number of Macs sold via its stores. Company execs also failed to mention retail stores during their earnings call. These omissions, along with fairly modest plans for short-term retail expansion, have raised eyebrows among some analysts. Others, however, say Apple might simply have adopted more standard accounting practices.
Microsoft currently has more than 100 full or kiosk retail locations, all of which are located throughout the United States, Canada, and Puerto Rico. Two years ago the company seemed prepared for international growth, after it formed and incorporated a company to open stores in the UK. But Microsoft has opened no locations in that country, and as CRN recently reported, the company Microsoft formed has been dissolved.
Consumerization means CIOs must grant personal devices access to corporate data and networks. Here's how to avoid loss and corruption. Get the new Mobile Security Action Plan issue of InformationWeek Tech Digest today (free registration required).